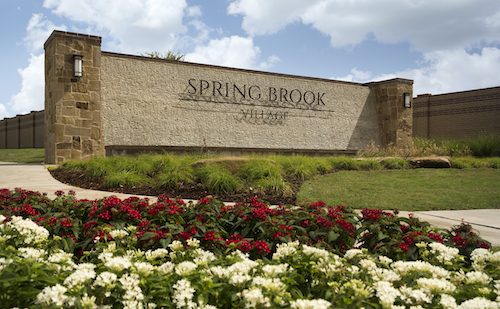 Since it opened a few weeks ago, hundreds of homebuyers seeking an active lifestyle community and top Realtors have already visited Spring Brook Village by Meritage Homes.
Situated on a former golf course, Spring Brook Village is a 115-acre master-planned gated community of new, detached townhomes and single-family dwellings from the high $200,000s to $400,000s in Spring Branch. Minutes from Beltway 8, I-10 and 290, Spring Brook Village offers buyers a prime location — close to work, fine dining, shopping, good schools and entertainment — and caters to an active lifestyle by providing unique amenities in a natural setting that make you forget you're in the city.
---
"We wanted to create a true community, where people in different stages of life can live around each other and enjoy the amenities." — Nick Luton
---
"We wanted to create a true community, where people in different stages of life can live around each other and enjoy the amenities," says Nick Luton, vice president of Intown, a division of Meritage Homes. "We're building homes that we're confident people want. Sales volume out of the gate has demonstrated that."
Staycation in your backyard
Walk, run or bike along 1.7 miles of paved trails surrounding water; stop to admire the cascading fountains; kayak from one end of the neighborhood to the other; work out, swim or host a party at the recreation center; do yoga, toss a Frisbee or picnic on the activity lawn; or let your pet frolic in the dog park. The choice is yours.
"There's not going to be this level of amenities inside of Spring Branch for a long time, because the land is not available," says realtor Jimmy Lam, owner of Kirkwood Haven. "You're inside the Beltway, but you don't pay the high prices of being inside the 610 Loop."
Experience first-floor living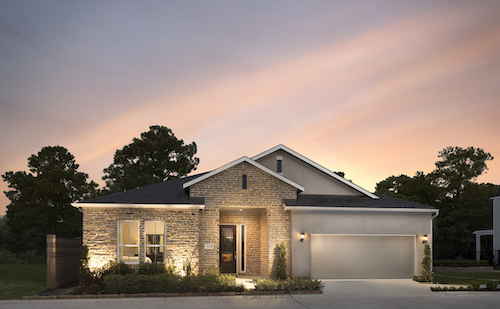 Luton is seeing a lot of builders and developers place as many homes as possible on small pieces of property. "People don't live well," he says. "We wanted to create something truly unique, that meets the needs we know have not been met."
Unlike the competition that is building three- and four-story homes, requiring residents to go up at least one flight of stairs or ride an elevator to put away groceries, Meritage is building single-story and two-story properties with first floor living. "Spaces you want to enjoy—the family room, kitchen, powder-room, breakfast/dining area, flexible space, and maybe a master bedroom or dual master bedrooms–are on the first floor," he says.
Buyers can choose from three series of homes: detached townhomes, patio, and executive homes. The townhomes are pre-packaged, inventory homes. "It takes away the stress of going to the design center," says Lindon Williams, a sales rep for Meritage Homes. "Everything is picked out by a licensed designer." Meritage has taken the top six packages nationwide, the most popular layouts, finishes and designs, and incorporated them into the homes.
---
"We wanted to create something truly unique that meets the needs we know have not been met." — Nick Luton
---
Patio homes and executive homes are customized by buyers. To simplify the process, customers visit the design center, Studio M, choose a layout based on their lifestyle, and select from a number of professionally curated, on-point designs, from sophisticated farmhouse to classic elegance. "It's similar to the process of buying a new car," Luton says. "You might just buy a certain package on a vehicle with 30 different features. If I had to buy them individually, I'd give up."
Meet your match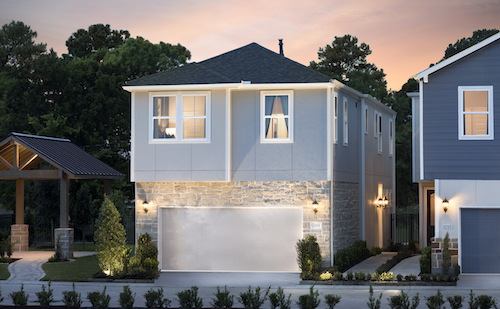 Lam says the townhomes are for buyers who want low maintenance on the exterior of their homes and efficient use of interior space; patio homes, the largest in the series, are highly suited for people who like to spend a lot of time outside, barbecuing and entertaining guests; and executive homes, the only properties in the series to come in both single-story and two-story versions, have the most outdoor space and interiors that echo buyers' attention to detail. "It really separates us from the competition," Luton says of the single-story executive homes. "A single story home has not been built in a new community in Spring Branch fordecades."
Shortly after the six models opened at 3217 Millwork Street in July, Lam sold three townhomes and even purchased one himself with his wife. "It's low maintenance," he says. "Even if we do have children, it will be perfect for us."
Don't be deceived by the open concept floorplan, Lam says. There is plenty of storage space hidden throughout the home. "The laundry room is upstairs; my wife loves it," he says. "There's a lot of room for her to store clothes and do laundry."
Merging quality construction with smart technology
Like his clients, Lam is impressed with the energy efficient construction. Spray foam insulation keeps out noise from neighbors, prevents allergens and pollutants from drifting inside, and helps maintain comfortable temperatures throughout the home, including the attic, a space usually difficult to control temperature-wise. Smart technology enables homeowners to unlock the door from their wireless device, to let in friends and family when they are away from home, change the thermostat or see who is ringing the doorbell. The new homes are already meeting or exceeding the new elevation standards that are going to be in effect on Sept. 1 to help prevent flooding.
He says Spring Brook Village can offer so many amenities for a low HOA fee, because there will be a lot of homes to split the cost. Luton estimates Meritage will build about 900 homes within the next five or six years.
---
"We have buyers coming back, bringing their friends and they are buying here. Other people are seeing it and bringing back friends, too, because it's a whole new concept." — Lindon Williams
---
"We are very bullish on the Houston market, it continues to be strong," Luton says. "We've seen some price appreciation, we've never really experienced a depreciating market. Our specialty is taking a raw piece of land and getting all the value out of it that we can for customers."
Not surprising, word has spread quickly. "We have buyers coming back, bringing their friends and they are buying here," Williams says. "Other people are seeing it and bringing back friends, too, because it's a whole new concept."
---
Read more from our New Construction issue