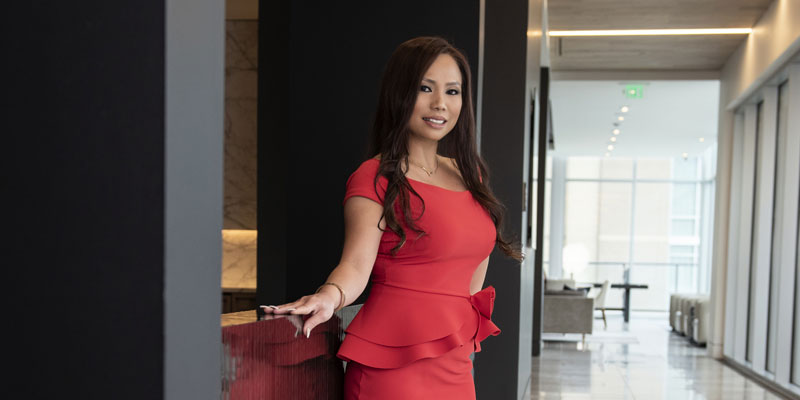 Emmy Rhoades
Owner, Realtor
Realty World Uptown
Every time Emmy Rhoades thinks of her parents' advice — "follow your dreams and be a better person" — she does just that. Though she started in the industry just over two years ago, real estate has always been a passion for the owner of Realty World Uptown.
"I've enjoyed the business aspect of real estate and the significant risk of buying and selling for all parties," she says. "Real estate has always been a blessing to the livelihoods of the many clients I have helped, including myself."
Rhoades works with residential and commercial buyers and sellers in Houston and the surrounding suburbs.
She holds a Certified International Property Specialist designation, which enables her to market properties outside of the U.S. Rhoades was among the Houston Association of Realtors' 20 under 40 Rising Stars in Real Estate last year, and was also recognized by her franchise company, Realty World International, with personal and office-wide excellence awards in 2017 and 2018. "I've only been at one company, and from the very first day, I felt like I joined a family," she says. "In January 2018, I was overjoyed to become a partner."
Rhoades' biggest sales accomplishment in the past year was taking over an expired listing that had been sitting on the market for more than 12 months. "Several offers and deals came in, but many unusual roadblocks interfered with the transactions. The emotions ran high and my seller was about to give up," she says, noting she remained calm despite the many hurdles. "Because of my past experiences as an investor and through my CIPS training, I was able to convince an investor that this was a great deal."
Rhoades maintains balance in her life by cooking, traveling and spending quality time with family. Experiencing the joys and pains of motherhood has contributed to her success by making her stronger. "I am not a quitter," she says. "I am fueled by challenges and not afraid to face problems.