The National Association of Realtors, along with everyone else, would like to save the housing market. According to the Chicago Tribune, these are their ideas for fixing the industry: creating safe mortgage financing for qualified borrowers, revising underwriting standards, adjustment of mortgage loan limits, and long-term funding for the National Flood Insurance Program.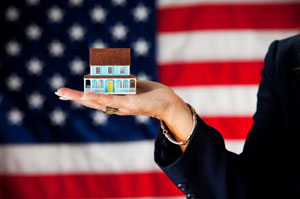 More specifically, they think safe mortgage financing should include a revision of the QRM downpayment, a hot button topic for the group as well as many other real estate professionals.
"In short, the Realtors believe that if Congress implements a firm requirement that borrowers put down a minimum 20 percent on a conventional mortgage, that would severely limit the number of people who could buy homes," said the article. "It would tank homebuyer demand, depress home prices further, and cause more foreclosures."
Underwriting standards are, according to NAR, "too stringent." They believe that the current state of the standards are greatly holding back qualified borrowers, unreasonably preventing them from obtaining loans.
The third key to fixing the housing market would be extending mortgage loan limits for FHA, Fannie Mae and Freddie Mac. As is, the reductions in limits would create an average decline of over $68,000, according to the article.
Finally, NAR calls for a long-term reauthorization of the National Flood Insurance Program, which they state is "essential to a properly functioning real estate market." Untouched, the program will expire at the end of September.
"A strong housing market recovery is essential to the nation's economic strength," said NAR President, Ron Phipps. "The housing market is in a fragile recovery, and our goal is to ensure that regulatory or legislative changes help lead the way out of today's economic struggles and not jeopardize the recovery."
NAR's forecast, (according to Real Trends) demonstrates that the group is expecting a sales increase in 2010-2011, and a sales increase of 5.2 percent accompanied by a 2.7 percent increase in prices in 2012. If these suggested changes were instilled, this outlook, as well as the real-time statistics may be increasingly positive.