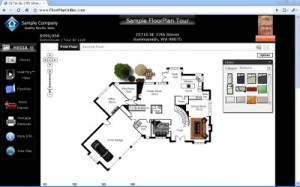 Members of the Texas Association of Realtors are getting a new perk – free virtual tours.
The Association announced today that it has partnered with FloorPlanOnline.com to provide each of its members with a free TourProducer Lite account. The complimentary service creates virtual tours with large photos and an editable video, but members can upgrade their accounts to receive enhanced services, such as automated YouTube uploads, QR codes and more than 100 photos.
"We are very pleased to be part of the member benefit program for the Texas Association of Realtors," Kris Cone, CEO of FloorPlanOnline.com, said in a press release. "Texas real state is still going strong, unlike many other parts of the country. Our new subscription program will enable us to serve markets in Texas where we were previously unable to provide our products."
Paid subscribers can also add new floor plans to their tours, which FloorPlanOnline creates onsite, or revise an existing floor plan with the clean-up service.
"What makes us unique is our ability to add a floor plan to any listing as the need arises," Cone said in a statement. "Multiple research studies confirm that buyers want to see floor plans as they are shopping online, that floor plans drive more interest in properties, and that floor plans can increase listing agent commissions. Floor plans also facilitate sales – several agents have sold properties without any physical visit – the buyer just saw the tour!"
The tour content works on any device and can also be linked to outside websites, such as the agent's business page, the MLS, Realtor.com or Facebook.
"We look forward to providing a cost-effective tour option to any Texas Realtor as part of our member benefits, and then encourage our members to upgrade with floor plans," said John Gormley, vice president, communications and marketing for the Texas Association of Realtors. "The FloorPlanOnline tours, with 2D and 3D RoomPlanner, really help buyers visualize and experiment with how they could live in a property. This is something you can't get from just seeing photos."