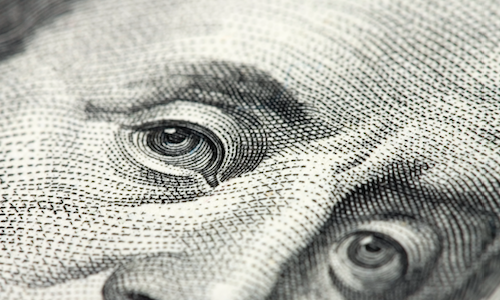 Real estate markets across the country continued hemorrhaging cash last October, a new report from CoreLogic confirmed, with the share of total sales falling 2.6 percentage points year-over-year. However, as is typical of the season, the amount of cash in the market ticked slightly up from September.
It's been a five-year tumble for cash sales, which peaked in Jan. 2011 when they accounted for 46.6 percent of total home sales nationally. According to CoreLogic's latest figures, in October that share was down to 36.4 percent.
Nationally, the number of all cash transactions in the market still eclipses the healthy, 25 percent standard set in the years leading up to the 2007 downturn. It's unlikely that the U.S.'s total share of cash sales will recede into "normal" waters before mid-2018 – which is when researchers predict the share will reach 25 percent – but on a more micro level, some markets have already broken that threshold (others are even further from it).
In October, cash sales accounted for 28.9 percent of total sales in Houston after dropping 4.5 percentage points from the same time the year prior. With a continued steady decline, Houston should reach the 25 percent pre-crisis standard well before the nation as a whole.