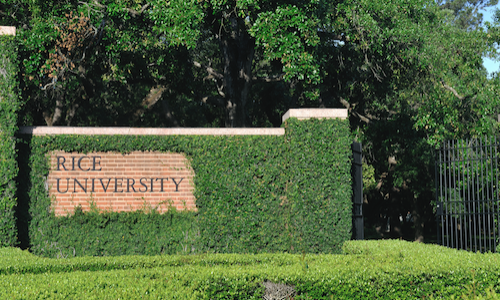 Texas is home to a number of celebrated colleges and universities, but among the state schools, none is better than Houston's very own Rice University, according to a new ranking from Forbes; and property values seem to have benefitted from it.
Founded over 100 years ago and situated in the heart of Houston's University Place neighborhood, Rice University was named the state's No. 1 university by Forbes, which wrote that the school has "earned a reputation for its strength of research." Nationwide, Rice ranks No. 17 among research universities.
Apart from the university's academic reputation, the school is also beloved by its graduates, Forbes reported. On the publication's Grateful Graduates Index – which ranks colleges by the median amount of private donations per student over a 10-year period – Rice ranks No. 25, with an average of 19 percent of alums giving a median donation of $15,806. The university ranked above Columbia, Cornell, John Hopkins and Northwestern (among others).
While we can draw no definitive causal relationship between Rice's placement and home prices, there does seem to be a strong correlation between the two.
Around Houston, median home price, after rising 5.3 percent year-over-year in January, was $200,000. Of the 99 University Place properties listed on Zillow (not in any state of foreclosure) the median home price is $875,000; and for homes for sale within two blocks of campus the median is $1.12 million.