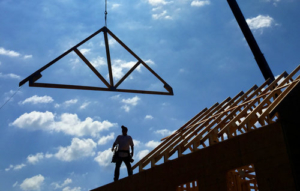 Housing starts around the country were sluggish in June, with single-family starts registering below year-ago numbers for a fifth consecutive month. In all, housing starts were down 0.9 percent from the previous June, and were on pace for a total of 1.25 million for the year, according to the U.S. Census Bureau and the U.S. Department of Housing and Urban Development.
High land and labor costs have tempered optimism that might otherwise accompany low mortgage rates and an economy that's been strong overall. This may be a reason that the issuance of new building permits has slowed, dropping by 6.1 percent from June of last year and signaling that the difficulties in the new construction market may continue in the months ahead.
But there are also some encouraging signs on the horizon. One of those is that construction jobs were a bright spot in the overall job market in May, suggesting that builders may be preparing for the clearing of the current logjam in the homebuilding climate later in the summer and beyond.
The South was the only region of the country in which single-family starts registered an upward tick during the month, mustering a 1 percent net gain from a year before. Overall, Houston has struggled to maintain the pace of new construction it has boasted in recent years. Residential construction spending as a whole reportedly fell by 20 percent throughout the first four months of the year. That said, consistent with many other large cities, Houston's construction activity has been focused largely on the building of new rental apartments. Last year, Houston was second in the country to Dallas-Ft. Worth among metro areas for the number of construction permits issued, according to remodeling site Fixr.
Single-family construction has stubbornly lagged behind other housing sectors in most parts of the country. Nationwide, there were 519,000 single-family homes under construction as of the year's mid-point, which represents almost no change from a year earlier. Starts on apartment buildings of at least five units were up from the previous June by 25 percent, despite dropping slightly from May's figure. With 616,000 units under construction, the strong preference of many for renting over buying (or the inability to become first-time buyers) continues unabated.