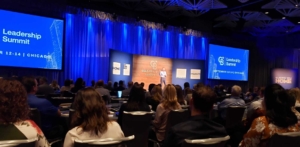 In what will likely prove to be his last address to a large group of real estate professionals associated with the company he runs, Coldwell Banker CEO Charlie Young directly addressed challengers such as Keller Williams, Compass and eXp. The speech was part of the general session at the company's annual Leadership Summit, held this year at the Marriott Marquis near Chicago's McCormick Place convention center.
Perhaps it was because he was among his own or perhaps it was because he's on his way to "new adventures," but Young pulled no punches when it came to what he sees at Coldwell Banker's rivals.
"[Keller Williams] wants to be a tech company. Compass is talking about being a tech company as well, but they don't have any technology products," he said, possibly referring to the fact that the brokerage acquired CRM provider Contactually, rather than building an in-house product. Referencing Coldwell Banker's use of machine learning and big data in their CBx program, he said, "all that stuff that is talked about by others that they're building, we're using it today."
Unifying the structure of an established brand
Just last week, Coldwell Banker announced a plan to integrate the Coldwell Banker affiliate and company-owned brokerages. As a part of that shift, Young will be stepping down from his position at the beginning of next year, with Ryan Gorman taking over.
As the CEO of NRT — the subsidiary that manages Realogy's company-owned brokerages, including Coldwell Banker company-owned brokerages— Gorman admitted that he has a great deal to learn about the franchise side of the company. "I need to understand a lot more about what's been going on in the affiliate side," he told attendees of the conference.
Young framed the shift as part of a larger effort to combat industry disruptors and "one of the most important things that Coldwell Banker has done in a long time."
"It is literally a merger of the organizations — and it is an equal merger," he said. "Why merge the two sides of the business now? … We do have a new competitive reality."
Gorman underscored Young's point about how the reorganization will help the brand compete by leveraging its numbers to get better deals on technology. He said that with the company-owned businesses on a different page than the franchises, there was disorganization.
"We were a mess, candidly … We'd bought 500 companies, and it feels like we'd bought 500 companies," he said, to laughter from the audience.
"We talked about the owned brokerage businesses being a test kitchen, and that was the idea," Gorman said, noting that as recently as just a year or two ago, the company had a whopping 133 agent-facing marketing tools, of which they've since eliminated 116. "Suddenly we can be a test kitchen… because we got our act together."
He was also candid about the difficulty of getting a unified communications plan together among the many parts of the organization. "If you're a Coldwell Banker veteran, you've pulled your hair out when you see two different messages going out in the marketplace," Gorman said.
Attracting agents in a VC-fueled market
As distinct from the company's GenBlue event, the leadership summit targets managing brokers, vice presidents and office managers, and Young's call to the more than 600 attendees was clear: "Your job is to activate your agents get them to go all in on brand," he said. "The more they participate, the more productive they will be."
But arguably, much of the onus of attracting new agents to a global brand lies with the C-suite. One clear strategy to differentiate the brand includes doubling down on market share in the luxury market. Young credited the Coldwell Banker Global Luxury platform for helping to "drive our 16 percent price premium" over the average sales volume as recorded by the National Association of Realtors. The program was one of the many he identified as key products that competitors envy. "The are gunning for us, to try to knock us off of every one of them."
Referencing the fact that other brokerage models can rely on venture capital to draw top-producing agents, Gorman made the connection even more bluntly: "We have a lot of the top, top, top luxury agents that Compass is going after with, frankly, $3, $4, $5 million checks," he said. Still, while their recruiting methods vary, Gorman did also admit the company sometimes subsidizes listing marketing to the tune of "four figures per listing," as part of its value proposition for retaining and recruiting top performers. Efforts to transform the company are paying off, according to Gorman. One measure of that: He said the company had added some 1,200 new agents just in the past three months.
The general session also focused on the new Project North Star rebranding effort and other initiatives that the company's leadership said will help brokerages, managers and agents combat disruptors. "They're impacting your business," Young told attendees. "You've got to keep moving. You've got to keep evolving. And if you don't, you're going to die."