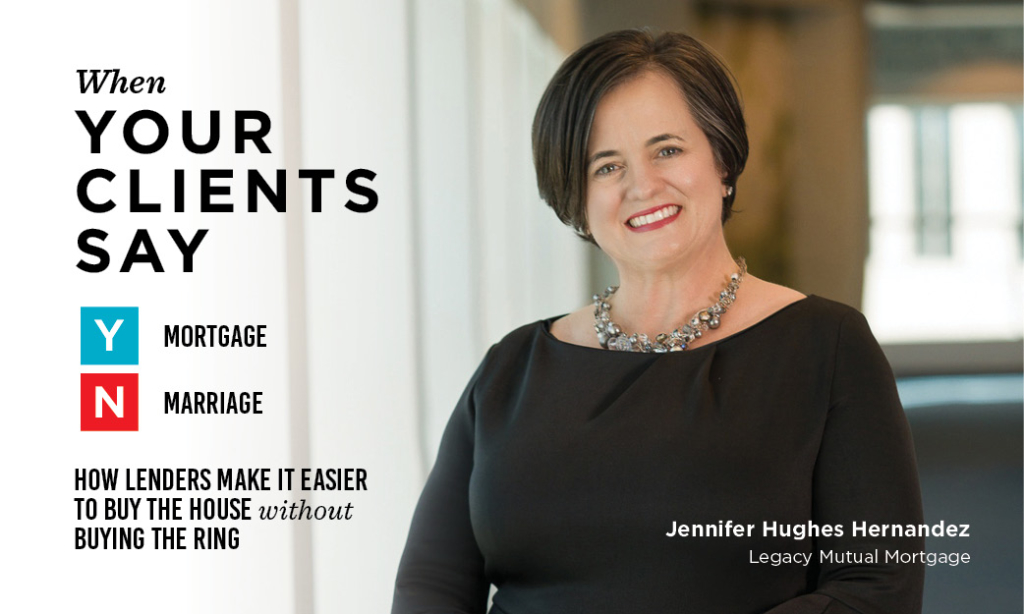 As millennials are famously delaying marriage, and homeownership remains the American dream, agents are guiding non-traditional homebuyers through the transaction process more than ever. Whether its unmarried couples, friends or relatives investing in a property together, agents can add value by making each party aware of the small details that can make a big difference going into a transaction.
Of course, that's only part of it. Before clients reach the closing table, they should also have an exit strategy that will hold up in court and cover all the bases, from the handling of common, unforeseen circumstances to a simple change of heart. Realistically, nobody can predict the future but with proper planning, agents can help clients avoid trouble and feel good about saying yes to a mortgage without an "I do."
Unanimously, mortgage experts suggest homebuyers meet with lenders and real estate attorneys before embarking on their property searches, to learn how to get the best terms on a loan, the smartest way to hold title and the many details to address in writing, to protect their investment should the relationship fall apart.
Get preapproved early
Whether non-traditional borrowers are purchasing a home in two months or two years from now, the best advice agents can give them is to get preapproved by a mortgage banking firm, said Jeff Wagner, vice president of national sales at One Trust Home Loans. "You want to know where you stand and be able to form a strategy based on how your specific financial picture looks," he said. "There is no cost or commitment in doing so."
With non-traditional households, Chris Kelso determines who has the financial strength to qualify for the loan and how that is going to impact it. "The main thing to consider with any type of borrower is their short-term and long-term goals: what are they trying to achieve with the loan and why they are trying to achieve it," said Kelso, a senior loan originator with Hometown Lenders — The Kelso Group. "Financing is the aftermath of what you're trying to do."
If clients aren't able to qualify on their own, they might bring their parents into the equation, but this also comes with caveats. When a couple needs parents to co-sign the loan for them, it's important to understand their situation, Kelso said. If the parents are looking at purchasing a property of their own within the next year, co-signing their child's loan will impact their income-to-debt ratio. If taxes on the property increase, that will be figured into the equation as well. Not to mention, if their child misses a mortgage payment, it will go against them because the co-signer is equally responsible for the loan. That said, Kelso always considers the client's ability to repay the loan and sets out to strengthen it by finding the best type of loan product available to suit their needs.
Plan for the unexpected
In Wagner's opinion, the two main benefits of purchasing a home outside of marriage are increased buying power and tax advantage. Realistically, the loan process itself for unmarried couples has limited pitfalls, according to Drew Steinmeyer, senior vice president and mortgage division sales manager with Cadence Bank.
As with any mortgage, both borrowers must have qualifying credit scores, reasonable debt-to-income ratios and assets. The big difference between married and non-traditional borrowers is how they hold title. Texas is a community property state; therefore, married couples appear on the title together, regardless of whether or not only one of them is on the loan. It's not the same for unmarried borrowers. For example, Kelso has a client right now who is trying to buy a home with his girlfriend, but she has a low credit score. "In this case, the borrower has to qualify on his own," he said. "Because they are not married, she will not be able to be on the title until they are married."
Jennifer Hughes Hernandez, senior loan officer, Legacy Mutual Mortgage, issued this warning: If the couple is not married when they purchase a home but may be in the future, they need to know that you cannot just add your spouse to the title without the knowledge of the lender. "The deed of trust specifically states you have to get the permission of the lender before you add anyone to the title," she said, noting borrowers who don't will suffer a big consequence for violating the terms of the note and the deed of trust. "The lender will call the note and demand payment in full."
A scenario nobody likes to think about is a couple getting divorced within their first year of marriage. Kelso has seen it happen, though. Technically, if a property was acquired prior to their marriage and not during it, the person who is not on the title doesn't have claim to the property. "Urge clients with non-traditional households to consult a real estate attorney, to clarify their individual responsibilities, expectations, exit strategies and protections in the event of a break-up or death as it relates to the loan," Steinmeyer said. "As co-borrowers, they are both responsible for the loan. Consulting with an attorney prior to purchasing a home will reveal possible means of protection for both borrowers."
This may be easier said than done. Discussing what happens if the marriage doesn't work out, prior to a wedding, is an uncomfortable conversation that Kelso said most engaged couples mistakenly avoid. "Understand that buying a home is a financial opportunity in your life," Kelso explained. "A lot of times, relationships and financial decisions don't go hand in hand. It's all right to have that conversation and say, 'I want to make sure when we get married, I get put on the title and we have a will in place."
Hernandez cautions unmarried couples, friends or relatives buying properties together that if the relationship ends, they may not be able to refinance their way out of owning the property together, unless they can qualify for the mortgage on their own. If they cannot, they are stuck with the loan and really, the only way to get out of it, would be to sell the home. It's something for non-traditional homebuyers to think about before signing on the dotted line.
Loan products and credit
FHA and conventional loans are the most widely used for non-traditional buyers, Steinmeyer said. Both of those loans offer low down payment options, which is particularly attractive to first-time homebuyers. Unfortunately, VA loans are the least flexible product for unmarried couples because veterans must be married to have co-borrowers on the title. Kelso noted that while it's one of the best loans for veterans, it might not suit them if they have a fiancé who wants to be on the title with them.
Cadence Bank in particular offers two special loan products that may appeal in these situations: Affordable Home Loan and Early Professionals. The Affordable Home Loan product is specially designed for borrowers with properties in low- to moderate-income areas. It offers borrowers who are within qualifying income limits a low down payment option, competitive fixed rate, no origination fee and no mortgage insurance requirement. The Early Professionals product is for borrowers in a range of fields, including doctors, dentists, attorneys, architects, CPAs, engineers, pharmacists and more, who have graduated or have become licensed within the last five years. Both of those products provide financing up to 100 percent loan-to-value with no origination fee or mortgage insurance requirement. Of course, all loans are subject to credit approval and some restrictions apply. "It's always best to shop around to find the best mortgage product to fit your unique situation," Steinmeyer said.
Although Wagner is prohibited from giving credit advice, since One Trust is not a credit repair specialist, he is in a position to present "what if" scenarios, to help clients increase their credit scores, such as advising them to continue to pay their revolving debt — car payments, student loans and credit cards — on time. If an individual's credit score is really low, he recommends they talk to a credit repair specialist.
At Legacy Mutual, Hernandez can do a rapid rescore, which helps clients quickly remove errors from their credit report that are not supposed to be there. The company also has a credit simulator that shows clients how paying down certain balances will increase their scores, giving them an achievable goal to work toward.
To make the loan process easier and more affordable, Steinmeyer said agents can prepare clients by communicating the importance of optimizing their credit scores and assets, saving ahead of time and lowering their debt load. Hernandez recommends agents tell borrowers to talk to a mortgage professional six to eight months before starting their home search. "It gives you time to move around certain parts if you need to, to fix credit, make adjustments to savings, to prequalify for a home," she said. "Not getting your ducks in a row early can really devastate you. You find the perfect house and want it in a package with a bow on it, but it cannot go the way you thought it was going to go."
---
Also in this issue
Legal structures for friends and family
Unwinding partnerships: When one party wants out of a mortgage