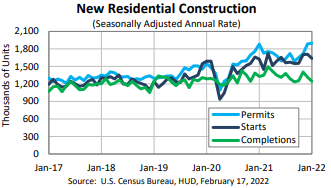 New residential construction was down across the board in January, the U.S. Census Bureau and the U.S. Department of Housing and Urban Development said in a press release.
Single-family housing starts fell 5.6% from December's revised estimate to 1,116,000, while multifamily starts slid 2.1% to 510,000.
Altogether, the combined construction pace of single-family homes and buildings with five or more units was down 4.1% month over month, at 1,638,000 units. Starts were up 0.8% compared to a year ago.
"Homebuilder confidence edged lower in February for the second month in a row, as builders continue to face supply chain disruptions, price increases and concerns that declining affordability will price out some potential buyers," First American deputy chief economist Odeta Kushi said. "While builder sentiment fell in February, it remains positive and high from a historical perspective because demand for housing remains strong, and existing supply sits at record lows. This dynamic is supportive of new construction."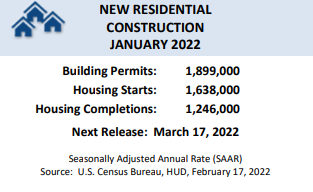 The seasonally adjusted annual rate for privately owned housing units authorized by building permits was at 1,899,000 in January, up 0.7% from December and 0.8% compared to a year earlier.
"The number of single-family homes authorized, but not started, increased 5.6% month over month and 32.5% year over year," Kushi said. "This indicates that builders are focusing on finishing existing projects, rather than starting new ones, as the lack of material availability and rising costs of building materials contribute to delays."
Privately owned housing completions hit an annual rate of 1,246,000 in January, down 5.2% from December and 6.2% from a year earlier.
By region, single-family new construction varied across the U.S. On a month-over-month basis, it jumped 17.7% in the West and gained 2.6% in the Northeast, while plunging 37.7% in the Midwest and declining 2% in the South.
"Despite a somewhat slower start to 2022, builders have continued to make progress on their backlog of homes, and consumer demand continues to outpace supply," RCLCO Real Estate Consulting principal Kelly Mangold said. "There is still reason to believe that 2022 will be another strong year for the housing market, and if conditions remain favorable, the market may support another period of sustained growth."