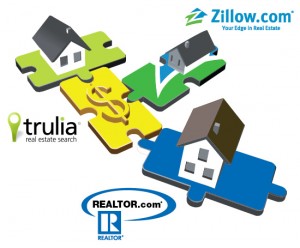 By Amber Statler-Matthews
The October 2011 issue of Realtor Magazine reported in September Realtor.com had more than 50 million visits. Zillow.com saw more than 28 million in that same month while Trulia.com had more than 21 million visits.
But which of these three sites brings the most value to real estate agents in Galveston/Houston? Which ones do agents say deliver the best leads? And how does homes.com stack up against the others?
Realtor.com
Christina Stevens, owner of Realty Associates, has been a realtor in the Galveston/Houston market for 8 years. When consumers search for properties in the area, her website (www.galveston4sale.com) is usually one of the first ones they see. Since 2004, she's been on the first page of most search engines including Google's.
According to Stevens, many Houston area agents no longer use Realtor.com because it costs too much. She says agents get more value using Zillow, Trulia, and homes.com. "To me Realtor.com is becoming a dinosaur," added Stevens.
But that's not the case for Marsha Mitchell, Director of Agent Technology, with Prudential Gary Greene, Houston's No. 1 company for listings sold. Mitchell says agents with the firm rely on Realtor.com.
"Our package on Realtor.com allows our agents to enhance their listings with more photos and information – including headlines on their listings – separating themselves from competing properties."
With Realtor.com's Showcase listing, agents can post up to 25 photos on each of their listings. They can also add full-motion videos and open house alerts. Showcase Listings comes with multiple leads forms, making it easier for potential buyers to contact listing agents.
However, it can be more difficult to determine the costs of Realtor.com's featured listings, because the company charges different fees depending on a real estate agent's market location and the number of listings this agent has. As Realtor.com explains on its site, traffic varies in different markets based on the number of potential homebuyers and sellers searching online.
At the same time, the more listings that a real estate agent carries, the more circulation they receive on Realtor.com. This website also offers monthly pricing to those agents who don't want to pay for a full year of enhanced listings. Monthly pricing, though, does come with a 12 percent surcharge.
Click here to view a PDF of the Realtor.com chart
Stevens believes her money is better spent using her own site and Point 2 agent. This way she can post as many listings as she has available. "My website is $49.99 a month and I get national coverage for my clients."
She sends her listings and Point 2 automatically posts them on Zillow, Trulia and homes.com. "For the whole year, I pay $599.88. But I handle my own SEO, via blogs, links and the appropriate venues to successfully market my website."
When comparing the big three websites' advertising packages and what they offer agents (see our charts throughout this story), you'll notice that the pricing, and what you get for that price, is similar – but when you ask what you get for a specific ZIP code or the type of ad bought and shown within a purchased ZIP code, things start to get trickier, prices start to increase and answers aren't as clear-cut.
According to Stevens, when searching for real estate in the Houston area, Zillow pops up first, followed by Trulia, Realtor.com and homes.com.
Click here to view a PDF of the Zillow chart
Zillow has been a source of frustration for Mitchell and her team at Prudential. "Unless an agent or broker has claimed their listings, the consumer has a choice of three or four agents who appear on the listing – which may or may not be the listing agent or company."
Mitchell believes the big three websites have forced agents and brokers to spend money to get leads off of their own listings. "It is not fair to the consumer or the agent, for an inquiry on a property to go to an agent who does not know that particular area."
For those agents who find value in Zillow and Trulia, they can pay for enhanced listings. Zillow Platinum, which allows agents to run 50 featured listings a month, starts at $128 a month. The site's Silver level, which allows for 25 monthly featured listings, costs $79, while its Basic level, with 10 monthly featured listings, costs $39 a month.
Trulia Pro also has three different levels. Its most expensive allows agents to post 50 featured listings a month and costs $149.99 every month. For $79.99, agents can post 24 featured listings a month. If they spend $39.99, they can post 10 featured listings.
Click here to view a PDF of the Trulia chart
Since partnering with Trulia in October, Prudential Gary Greene property views increased 200%. "We also experienced more leads going to our agents and our traffic from Trulia to www.garygreene.com increased 81 percent," explained Mitchell.
Leads
Both Stevens and Mitchell agree it's difficult to pinpoint which website generates the best leads. Prudential Gary Greene has the most listings with Realtor.com. But Mitchell admits it can vary.
"The quantity and quality of leads generated seem to vary according to which part of town, where the agent is featured and the price point of the listings."
For Stevens, it's clear the least viable leads come from Realtor.com. She believes the best leads are the result of paying attention to the smallest of details. "Like the photos of a property are a major component of selling a home, since the public can now view the home online before ever picking up the phone.
Data
More importantly than working the leads, how can agents know whether the programs they are investing in are, in fact, good buys? How can they tell if it's worth their money?
"Of the three sites, Realtor.com seems to have the most accurate information as far as the updates of price and status," says Mitchell. According to her, Trulia and Zillow struggle with removing market listings from their database.
"With Texas being a non-disclosure state, many national aggregators do not have the correct model for guessing home values in Houston or Texas, for that matter. Their algorithms may work in other states but are not as accurate in Texas as a the Houston Association of Realtors could advise."
Stevens' says her website tracks the critical data she needs to determine if her marketing strategy is working. She can find out how much time visitors spend there, which zip code they live in and how often they return to the site.
Best Value
There's no question real estate agents find significant value in using online websites to list their properties. "As far as investments with these three heavy hitters, we feel that having the most listings sold in Houston last year was our ROI," explained Mitchell.
Both Mitchell and Stevens agree banner ads are not successful for selling properties but they may benefit brand promotion. Also agents who appear in an ad on the general search results page can generate some clicks for agents especially those who have purchased a greater percentage of ad visibility. And, Mitchell adds, for Prudential Gary Greene, some of the best investments have been to make sure leads from their listings, go to their agents and not someone else.
"Some agents buy 100 percent of a city/zip and others may opt to show just 20 percent of the time," she says. "The more you are seen, the more you may be remembered."