Houston experienced declines across the board in February, with the exception of home prices.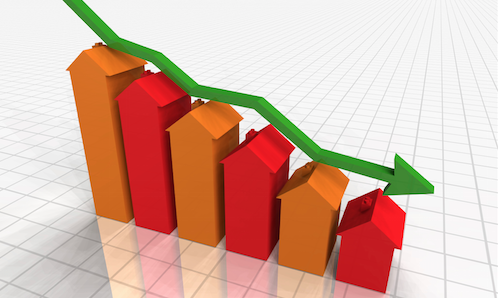 It seems as though the affects of falling oil prices, particularly that on Houston's imposing energy sector, have finally rippled into the local housing market, as sales, for the first time in six months, dropped in February, according to the latest report from the Houston Association of Realtors.
Sales for all property types, recorded at 5,564 units, were down 4.7 percent from a year prior. Unique to single-family losses, lower sales came as a result of fewer $500,000-plus properties being sold. An interesting discovery, as higher-end home sales have surged in recent months, so much so that it's largely guided the recent direction of building.
Despite slumping sales, though, prices are still maintaining their upward momentum, escalating to record highs in February, the report found. The median price for single-family homes jumped 7.9 percent to $199,400.
The contrast between sales and price is almost certainly the product of a persistently shallow inventory, which edged up only slightly in February to 2.7 months – still well below the current 4.7-month national supply.
Declines on Declines
In fact, home prices were the only measure to see positive growth last month, HAR reported. Across much of the board, measures were down, including:
Total dollar volume dropped 1.7 percent from $1.392 billion to $1.369 billion.
Inventory for condominiums failed to pick up the pace, landing flat at a 2.6-months supply.
Total pending sales fell 1.5 percent year-over-year to 3,719.
40,000 Jobs Less in 2015
In remarks accompanying HAR's report, the organization's chair, Nancy Furst of Berkshire Hathaway HomeServices Anderson Properties, expressed a supreme optimism for the market, pointing to declining trends as a sign of normalization.
"We are witnessing the start of exactly what economists predicted would create a more 'normalized' Houston real estate market: declining sales volume, increasing prices and improvement in housing inventory levels," she said.
Furst went on to acknowledge recent layoffs in the energy sector, refuting suggestions that dips in the energy market would largely impact the city's overall economy.
"While some local energy jobs have gone away, the Texas Workforce Commission just declared 2014 one of the best years for job creation in Houston, with almost 105,000 jobs added and continued hiring expected this year, albeit at lower levels," she said. "No one knows for sure where oil prices will go in the months ahead, but the diversity of Houston's economy should help our housing market hold its own during this transition."
An employment forecast released by the Greater Houston Partnership in December projected a more than 40,000 job drop for 2015, with the biggest hits coming from the energy and manufacturing sectors.
Historically, Houston has experienced far less substantially yearly jobs gains, usually in the 40,000 to 50,000 range, but coming off a record breaking 2014, it'll be interesting to see how the market adapts to the rapidly slowing pace. Hopefully, as Furst mentioned, this is a great leap toward normalization.