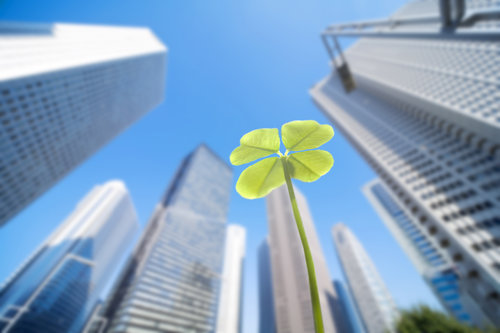 Green construction is growing faster than conventional construction. It currently provides 2.3 million jobs and $55 million in residential construction spending, which is expected to grow by $45 million by 2018.
The homebuyers driving that growth are becoming increasingly eco-conscious, and the National Association of Home Builders has released a new study on homebuyers' purchasing habits with regards to eco-friendly homes: What Green Means to Home Buyers: Perceptions and Preferences.
Here are the three biggest takeaways from the NAHB's report:
1. Values & Features in Homebuying – Energy efficiency rates prominently with prospective homebuyers,  but in different contexts. For instance, when asked to rank the general attributes that homeowners valued when buying or remodeling a home, energy efficiency was ranked by 37 percent as the first most important, and another 27 percent ranked it as the second most important.
However, when asked what would influence their decision to buy a home, 90 percent of respondents said that safety (which was not an option in the survey's earlier list of attributes), would be "very likely" or "likely" to influence their homebuying decision; energy efficiency came in at No. 2 with 88 percent, and 57 percent said that a green home would likely or very likely influence their decision.
2. Green Homes are not Money Savers – Interestingly, consumers do not equate green features with saving money. Respondents were asked what three words they would use to describe a green home. While 32 percent said "efficient, energy efficient, water efficient or high efficiency," only 4 percent said "lower costs, lower utility bills or saves money."
3. Certification Influences Purchase Decisions – The NAHB also found that certifications hold sway over homebuyer decisions. When asked if knowing if a home was certified through programs such as Indoor airPLUS or ENERGYSTAR for Homes would influence their decision, only 3 to 5 percent of respondents said no. The top three were Indoor airPLUS (59 percent said yes, 37 percent said maybe, and 4 percent said no), ENERGYSTAR for Homes (57 percent said yes, 40 percent said maybe, and 3 percent said no), and WaterSense (57 percent said yes, 38 percent said maybe, and 4 percent said no).