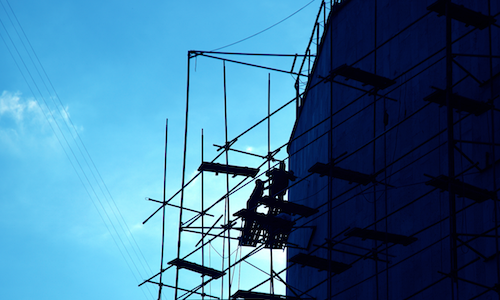 Speculation on the future of Houston's construction market spans the spectrum, from unbridled optimism to doomsday nihilism. The reality will likely fall somewhere in the middle of that range, according to a 2016 construction market outlook from Atlanta-based CMD Group, a provider of construction data.
"Houston residential starts are negative 6 percent this year, but Houston is still second in the country, only to New York, for total residential starts," said Alex Carrick, the group's chief economist, adding that despite the slump, the city remains "quite strong."
In its reporting, CMD provided outlooks for both the multifamily and single-family sectors, and it seems while confidence is waning in Houston's once-surging multifamily market, single-family building is still on pace to eclipse 2015's production.
Multifamily
The focus of Houston has largely remained fixed on oil prices and the impact of falling crude values this year. And while many, including the city's controller's office, have expressed worry in the potential detriments to the city's tax revenues, job market and local economy, Carrick said that, at least according to "Houston's numbers," things don't look so bad.
Still, the CMD chief economist admits the 2016 outlook for multifamily building has dropped from 2015. Only $909 million worth of new projects are slated to break ground in 2016, which represents an almost 9 percent year-over-year decline, according to the group's report.
"If I were in that market," Carrick admitted, "I would be cautious over the next year."
Single Family
Rounding out 2015, Houston is expected to end the year with over $8 billion worth of new homes breaking ground, and if CMD's projections are correct, that figure should jump by upwards of $2.1 billion, or 21 percent, over the next 12 months.
Carrick said that Houston's new home market has lagged during the recovery and is "still way down from its peak," but explained that it's because of the slowdown and persisting low levels of building that the city's single-family home market is set to see big increases in the new year.
"Residential (single-family) construction has lagged in this recovery," Carrick said. "The economy and employment have recovered and is now expanding, but construction is still not back to where it was before the recession. Until it does, it's hard to see real concerns in Houston."
Building Costs and Consumer Expectations on the Rise
Anticipating the performance of Houston's building sectors in 2016 is difficult, because while home starts are set to increase, as CMD pointed out, in October (which is the most recent month in which construction spending data is available) residential construction spending was down 17 percent year-over-year from $880 million to $729 million. Year-to-date, construction spending has only grown 1 percent (less than Atlanta [18 percent], Boston [31 percent], Chicago [32 percent], Dallas [16 percent], Miami [8 percent], Seattle [28 percent], and so on). So any increase may just be to recoup losses.
Other challenges impact the city's own financial situation: low gas prices continue to impede tax revenue streams, a statewide shortage on skilled labor has led to difficulties for building and an increase in cost for building materials is making constructing a home more expensive than ever, limiting entry into the homebuying market.
It's because of these growing costs and the natural incline of expectations in homes, including entry-level, that the majority of 2016 construction activity is likely to be limited to the market's higher end.
Will Holder, president of Trendmaker Homes, recently told us that affordable homes in Houston might soon be a thing of the past.
"We've created a scenario of impossible-to-build, truly affordable homes anymore," he said. "I, personally, don't know how to do it."