Home prices continued their steady climb rounding out 2015, rising both year over year and month over month, according to CoreLogic.
Across the nation, home price appreciation averaged a 6.3 percent increase from Dec. 2014 to Dec. 2015 – adding to a more than year-long trend of similar increases, said CoreLogic Chief Economist Franck Nothaft.
"Nationally, home prices have been rising at a 5 to 6 percent annual rate for more than a year," he said.
However, Nothaft went on to explain that national price increases were hardly reflective of how prices were rising at a metro level, where appreciation can "vary substantially."
"Some metropolitan areas have had double-digit appreciation…while others have had price declines," he added.
In Houston, prices have recently followed the nation's, consistently increasing at or near the 5 to 6 percent range – though price appreciation has declined substantially since 2014 – and in December the pace of appreciation was no different. Prices in the city jumped 4.2 percent from a year prior, while prices statewide climbed 6.6 percent.
Houston's price slowdown comes as oil prices stay low and labor remains short, but as the city has been widely criticized for being "overvalued," the declines are welcome in a market struggling to reconcile supply with demand.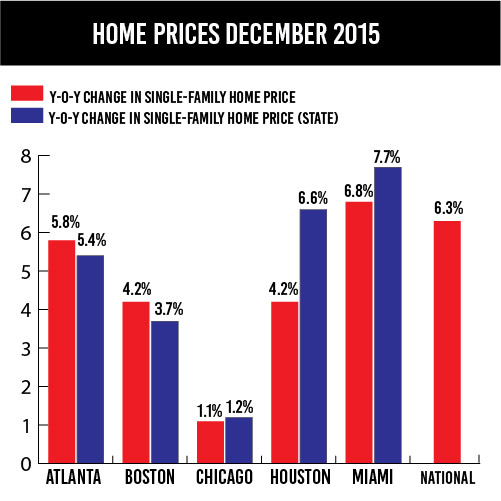 Looking back at the nation, CoreLogic's president and chief executive, Anand Nallathambi, said that improved property values are likely to fuel what he expects will be a surge in desperately needed single-family construction, padding inventories and hardening the ceiling on exorbitant appreciation.
"Higher property valuations appear to be driving up single-family construction as we head into the spring. Additional housing stock, especially in urban centers on the coasts such as San Francisco, could help to temper home price growth in the longer term," he said. "In the short and medium term, local markets with strong employment growth are likely to experience a continued rise in home sales and price growth well above the U.S. average."