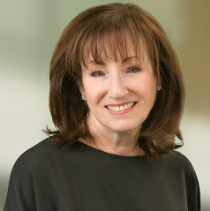 What was your first job in the realty industry? I was a sales associate with a large realty company. I represented both buyers and sellers throughout Houston and its neighboring communities.
What do you do to relax when you're stressed? I love to read, watch movies and cook. I love historical fiction, action movies and cooking Ina Garten's (Barefoot Contessa) recipes. I also love to entertain friends and family.
Where did you grow up? I grew up in Montreal, Canada. I met and married my American husband in Montreal and moved to Houston in the late seventies.
Growing up, what did you want to be? I always wanted to work with people. I thought of teaching, being a stewardess and going into sales, but real estate is my dream job!
If you could have lunch with a well-known figure (living or not), who would it be and why? I would love to have lunch with Jacqueline Kennedy Onassis, to discuss her travels and lifestyle, as well as the people she had known in her life.
Where is your favorite place to hang out? I love to vacation in Colorado. The beauty of its mountains, streams and lakes mesmerizes me.
What do you love most about the industry? I love meeting and working with buyers and sellers. I love feeling that my efforts have helped them achieve and realize their dreams. I love welcoming newcomers to Houston and sharing its incredible neighborhoods, restaurants and cultural attractions with them.
How do you distinguish yourself from the crowd of agents? As an individual with several previous careers and an expansive background (editing medical research papers, social work, trial and appellate lawyer for 21 years), and as a multilingual speaker and previous newcomer to Houston, I provide my buyers and sellers with my knowledge and experience, welcoming them to the city, recognizing their unique needs, and deciphering the legalese of contracts, etc.
What is the most difficult aspect of your job? The most difficult aspect of my work is finding and pointing out the common ground between buyers and sellers, finding and presenting the "win win" course.
Where do you go to network and meet new clients? I network and meet new clients everywhere I go. Each event and location I attend presents a "possible network" or lead opportunity.
What has been your greatest accomplishment? My greatest accomplishment has been raising my wonderful children and being there for my family while working and studying. I have also volunteered in several organizations including the Susan G. Komen Foundation, Houston Race for the Cure, the AntiDefamation League, the Houston Ballet, Hadassah and NCJW.
What was the last good movie you saw or book you read? The last movie was "Cafe Society" and the last book was "House of Thieves" by Richard Belfoure.
What is your favorite restaurant? My favorite restaurant is La Griglia. The service, the food and the atmosphere are outstanding.
Architecturally speaking, what is your favorite building in Houston? My favorite building is the Asia Society Building in the Medical Center. It is a haven of beauty and tranquility.
What kind of car do you drive? I drive an SUV.
Smartphone or paper? Smartphone and paper. Habits die hard.
What is your favorite city after Houston? My favorite city after Houston is Montreal. I love its European flair, cafes and parks.
In 10 words or less, what is your advice for someone new to the industry? I would advise them to keep educating themselves with the changes in market trends, new neighborhoods, changes in the profession and to attend as many continuing education classes as possible. I would advise them to build their reputation with one client at a time with care, honesty, availability and compassion. They must be excellent listeners and must put clients' needs ahead of their own.
What's your favorite real estate iPhone/Android app? My favorite app is HAR.
Who are your favorite people to follow on Twitter? Bernstein Realty, Omnivore Partners and Marielle K Weintraub.