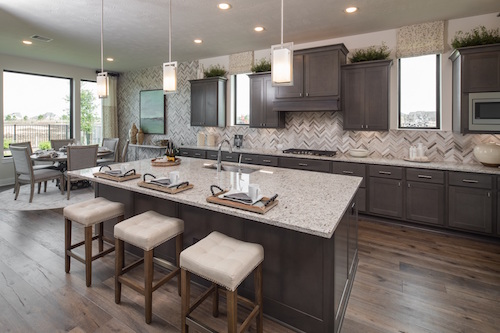 Heather Scruggs, the merchandising manager at Trendmaker Homes, is always keeping up on the latest trends in home construction and renovation. Here, she tells agents what they need to know about kitchen design to help seller clients get the best possible sales price for their homes.
Q: What advice should a real estate agent give to someone looking to create a "kitchen that is pretty on the inside and outside"? How do you make a kitchen aesthetically pleasing, yet functional?
A: The key to a functional kitchen is good organization. By keeping items like small appliances or food items hidden behind your cabinet doors and drawers, you can remove clutter. The most effective types of storage include soft-closing drawers, organized utensil drawers, pot shelves that pull out, hidden garbage can/recycling bin drawer, a pull-out spice rack, built-in wine storage, or butler's pantry with glass doors.
For a clean countertop look, there are several different countertop materials that can enhance your kitchen, from solid surfaces to quartz to exotic granite. Paired with a beautiful backsplash, countertops can transform the aesthetics of any kitchen.
New appliances not only offer functionality and can save room, but most modern appliances also offer eye-catching style, including French door ovens or sleek-looking induction ovens.
Q: Tell us about "kitchens that live well."
A: It's no secret we all love an open concept for entertaining. By adding a large island, homeowners can create a lot more space. Whether you use this area for extra seating or dining or as a serving area at parties, everyone tends to gather here. Being able to cook and prepare while still mingling with guests is a huge plus. An island makes for an additional counter surface for cooking and baking (Christmas cookies, anyone?) and provides the ability to set up for a party and display food on the island so people can serve themselves and not feel secluded. An island also provides a great space to hang out, do homework and eat breakfast while getting ready to head out for the day, instead of an additional kids' table.
Most people know about the "appliance triangle" in their kitchen, but for added functionality manufacturers are offering new appliances that help save space by combining features. For instance, GE Appliances offer ovens that can be enabled via Wi-Fi and offer speed cooking, and refrigerators with K-Cup coffee dispensers.
Don't overlook lighting in the kitchen. Depending on the time of day and task, additional lighting can help create the perfect meal or perfect mood. Pendant lights over islands offer simple or artistic aesthetics and can range in price from low to high. Replacing recessed can lights with LED bulbs will add brightness and clarity in color when cooking or reading, while under-cabinet lighting and lighting inside glass cabinets can not only soften the look in the evening, but also highlight treasured pieces.
Q: What are the top trends we're seeing in kitchens today?
A: New, bold colors. Many kitchens have painted cabinets, in ranges of blues, bright white and grays. We're seeing less antiqued, distressed painting on cabinets, and more clean, fresh and modern colors that can go with any style of furnishing in the home. Shaker doors are currently popular, but cabinet manufacturers are adding new door styles each year. Some may be a new Shaker with trim door style adding pattern designs to the cabinet doors and island, but with clean lines and not overly complicated or carved.
Q: What are the biggest challenges new homeowners face when selecting materials for their kitchens, or making decisions?
A: Deciding on what materials to use is a big challenge, since there are so many choices and interesting things you can do on a backsplash or countertop. It's not easy to narrow down to one choice.
Though it's not a new challenge, the color white can be hard to keep clean, as can natural stone backsplashes behind cooktop areas. Although wood flooring is popular, buyers are having more reservations with it in the kitchen since it can be difficult to keep clean.
Q: How can these challenges be overcome?
A: Work with a design consultant and explore all alternative options with both pros and cons of material and workarounds. For instance, using wood-looking tile in lieu of real wood flooring.
Q: What's the best way to develop (and stick) to a budget?
A: When you're ready, research products, materials and prices so you can develop a reasonable budget. Despite the new functionalities and good looks of new appliances, piece by piece they are reasonably priced. But when you add up all new appliances for a kitchen, the costs can seem overwhelming. You may need to compromise on a couple items, but overall the end result will be worth it to you and for future resale. Set priorities of what's important to you and in the home. If flooring, or new appliances, or the addition of an island are high on your priority list, then your budget should reflect that.
Q: What's the best way to evaluate all the myriad of choices out there?
A: Do some research, find online photos or visit new model homes in your area to get a feel of the styles you like and are drawn to. Next, think about how you live. Are you busy with work, kids and sports? Consider appliances that can make cooking and living easier, or countertops and backsplashes that are easy to clean but still stylish. Do you need more organization items/storage? Working with a design consultant can help integrate your lifestyle into a functional, yet stylish dream kitchen. Your kitchen is an integral part of your home, if not the heart of it.
---
Heather Scruggs is the merchandising manager at Trendmaker Homes. Since 1971, Trendmaker has delivered homes that are both beautiful and functional to generations of Texans. With an emphasis on excellence, the company focuses on the needs and desires of the most discriminating home buyers through innovative designs and customer service, including in the model homes where "what you see is what you get." Trendmaker's logo, the iconic "T", is more than a symbol of a premier home; it represents nothing less than a superior home-buying experience. Trendmaker Homes is a member of TRI Pointe Group (NYSE: TPH), a family of premium regional homebuilders. TRI Pointe Group is one of the largest homebuilders in the U.S and was recently recognized as 2015 Builder of the Year and 2014 Developer of the Year. For more information about Trendmaker Homes, please visit www.TrendmakerHomes.com.