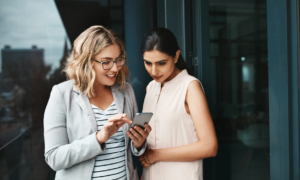 Technology is changing everything, including how real estate agents do business. Gone are the days of buyers relying on newspapers and agent expertise to find properties – since 2014, homebuyers have used the web or mobile apps to search for home listings more frequently than they've contacted real estate agents, according to a new report out from Facebook.
Facebook is still one of the most popular social media platforms out there, and furthermore, its algorithm favors business pages that play by their rules, so it's helpful to get an insight into how they see the homebuying process and your role in it.
Researchers looked at consumers in order to distill digital marketing and top-funnel tactics to help agents generate more leads, distinguish their listings from larger competitors, establish their expertise, and of course, engage their audience. Here are some of the top tips from the guide:
Forget the bus stop bench
More than 50 percent of buyers speak with only one agent before deciding who to work with, so being visible continues to be crucial. However, today visibility translates more clearly on a digital screen, according to Facebook researchers.
Personalization is key
More than half of the digital device users surveyed said they're more likely to make a purchase when they receive personalized content from advertisers. In other words, the targeted ad that appears on their feed after they do a search for open houses in their neighborhood may actually be more effective.
Video ads burst with digital curb appeal
According to researchers, video ads are not only twice as likely than static ads to create emotional responses, they generate faster exposure speeds and offer a 17 percent higher conversion rate as compared to static campaigns. On top of that, a whopping 86 percent of buyers said they would use mobile video to educate themselves about a community they're considering.
Buyers want an instant response
Blame texting culture if you like, but it's no longer acceptable to get back to a buyer the next day. They want an immediate response, and enabled app or web-based messaging makes it a whole lot easier. That may be why Facebook now tracks the response time of business pages.
Messaging is better than forms
Who wants to fill out a form? More than 60 percent of respondents said they prefer to message a business, as opposed to filling out a form, sending an email or making a phone call.
Use a carousel to tell a story
Develop a narrative through each sequential image to share a bigger story. For example, tell the story of your most recent buyers, from the showings to the closing table, with each image sharing a similar visual style and each one teasing the next. Be sure to integrate your brand within the first few images, whether through logo, sign, your picture, tagline or storefront.
Above all, be authentic
Most people are savvy enough to smell a phony, so it's important to curate content that is honest and provides value to people's lives. One way to do that as an agent is to provide useful information on your feed and stories. With more and more people finding their perfect homes online, says the report, they're looking to their agent to act as an advisor who can help guide them through the buying process.