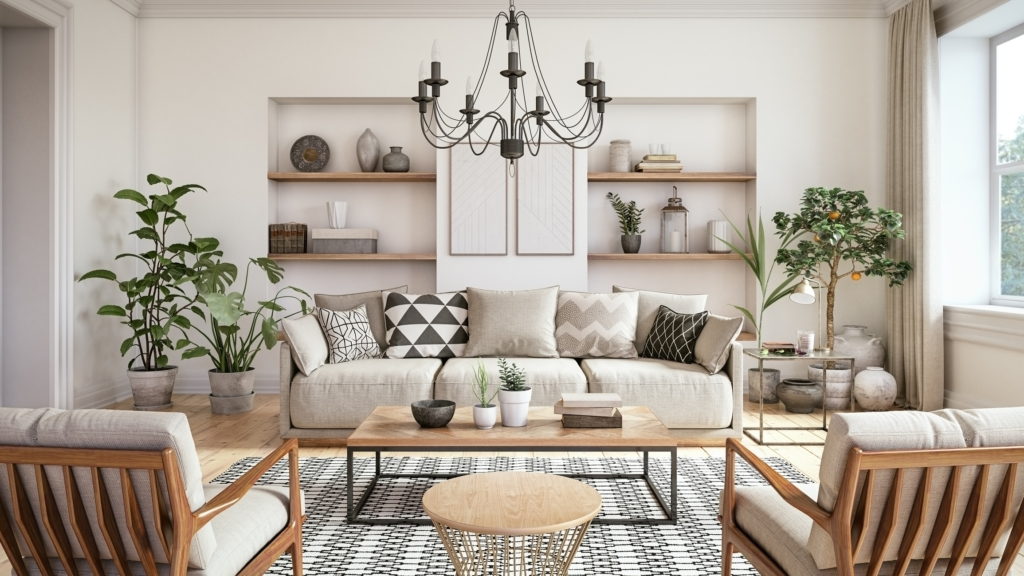 From the latest fixtures to the trendiest hues, the art of staging a home to highlight its best features and showcase its potential has long been a valuable tool for agents. Even more so now, as coronavirus concerns mean agents need to deliver a compelling visual story that buyers can engage with from the safety of their homes.
These days, the work goes way beyond traditional staging, however. Homebuyers are often looking for properties that are move-in ready, with the hard work of renovating and updating already completed.
But sellers don't always want to put in the effort or go to the expense of redesigning a home they're about to leave. Some are already envisioning themselves in a new space, having mentally moved on from the tired and dated look of the home they're selling. Others are overwhelmed by the idea of managing major projects like replacing windows, fixing persistent plumbing problems, or installing a new roof on top of orchestrating a move.
Marnie Greenwood of Compass in Houston has witnessed this transition firsthand. Presentation becomes everything to first-time, millennial homebuyers who are accustomed to starting their searches online and aren't interested in remodeling.
"Before this technology came along, people had to walk into a home and go, 'Okay, I can imagine it like this.'" Greenwood said. "They're not having to imagine much in their life, period, because everything is presented to them turnkey, completely edited and exactly how they want it."
Firms like Curbio, along with similar remodeling and renovation services offered by major brokerages such as Compass, are stepping in to lighten the burden of pre-sale renovations.
The concierge treatment
Curbio's services cover a wide variety of pre-sale improvements carried out by the company's own professionals, rather than outside contractors, and works with agents from all brokerages. Sellers who use Curbio don't have to pay any of the costs associated with the renovations until after their property sells, and the agents don't have to manage the work.
"When an agent works with Curbio, we're not only deferring payment, but we're also handling the renovation itself," said Rikki Rogers, Curbio's vice president of marketing. "In order to maintain ownership of that really valuable relationship with homeowners, agents just take on more and more and more responsibility."
Rogers noted that Curbio is different from other concierge services in that they do not require the agent to serve as the project manager. Curbio takes on responsibilities such as acquiring the right materials and managing subcontractors.
Curbio surveys buyer's agents in order to keep up with what homebuyers in a given area are looking for in terms of fixtures and features. The company uses real-time sales data and provides clients with virtual estimates so that there aren't any surprises after the home is sold. Automated communications and frequent updates keep clients informed of the progress of the improvements as they happen.
A growing field
Other companies offer varying levels of concierge service. Compass Concierge takes an approach that's similar to Curbio's. Aimed at helping clients sell at a higher price, Compass Concierge offers services such as staging, painting, roof repair, landscaping and electrical work. There are no extra fees or costs to the sellers.
Greenwood uses Compass Concierge to handle staging, decluttering and other work for her clients. Previously, she handled tasks such as choosing paint colors, selecting surfaces and rearranging furniture on her own to present a more complete picture for buyers.
"Ideally, we would paint the house and we would maybe change out some of the surfaces to be more on trend," she said. "The first reaction of any homeowner who is ready to leave that home is, 'I'm not interested in putting any more money into this home. I want to sell the house.' When you offer them the chance to use somebody else's capital, and that could result in them selling their home faster and for more money, they become much more receptive to the idea."
One of her clients, a couple, had their home on the market for several weeks with an agent from a different brokerage. They had opted against spending money on upgrades. They weren't receiving offers, despite dropping their asking price by $100,000. Greenwood met with them after their listing agreement with the other agent expired.
"A lot of work needed to be done," Greenwood said. "I said, 'Look, you're going to spend $35,000, which is normally like $70,000 worth of work because you're going to use my contractors. You're going to pay them directly. I'm going to pay for all of the finishes, the paint colors the countertops, et cetera, and we're going to stage it and we're going to go back to the market at the price where you started.' The whole thing took about a month to pull together. We re-photographed and re-launched and we had it under contract in two weeks."
Several companies under the Realogy umbrella provide clients with concierge-type services as well. Coldwell Banker's RealVitalize home improvement service helps connect homeowners with service providers capable of carrying out a variety of work. The program provides these resources without up-front costs or interest charges.
The BHGRE Moves program from Realogy subsidiary Better Homes and Gardens Real Estate comes at the problem from the other side of the transaction. This tool is provided to buyer's agents and puts a slightly different spin on the concierge concept by connecting new owners with movers and utility companies to make it easier to settle in.
Last fall, Keller Williams began offering a concierge service under the company's iBuying division, Keller Offers. Initially offered in California, Georgia and Texas, the program gives clients access to assistance with minor repairs and renovations at no cost upfront.
Curbio represents one option for agents who don't have access to such in-brokerage tools. "The value to agents is both in the ability to compete for the listing and then also to secure the lifetime value of the seller," Rogers said. "For independent brokerages or brokerages that don't have an in-house concierge service, Curbio is a great solution because they can essentially offer the competitive service without the risk and the operational efforts of launching it on their own. For agents that are not from the really large brokerages that are rolling out these services, Curbio can be a way to level the playing field."
Competing independently
But some brokers prefer to take this work on themselves. Managing director Amber Kuhl and manager Kelly Donawa of The Collection Real Estate at JLA Realty have a defined process for tackling their staging projects. They begin with a walk-through with their clients to look for ways to maximize space, utilize the available lighting and make rooms more photo-friendly with touches like using white linens in the bedrooms.
"We decide whether or not a professional stager needs to be brought in, or whether or not we can utilize what the client has already," Kuhl said. "We make suggestions If a painter needs to come in or if minor touch-ups will suffice or if a landscaper needs to come in. An entire inside and outside preview happens and a list of suggestions goes out to the potential seller as well as to the agent."
They also use that walk-through to ask their clients about maintenance and find out when features were last updated.
"We make recommendations at that point based on what we know to be trending in the market and what buyers are looking for so we can actually add that to our description to make it more desirable," Donawa said. "We can say that the AC was replaced three years ago. Or if it's a case where the roof is 35 years old, you know, we can definitely have a conversation with them about that before they get to the step where they're filling out the seller's disclosure."
Staging for success
Regardless of the scope of a renovation project, staging is a key component of ensuring that everything looks right. This is particularly true at a time when a global pandemic threatens to disrupt real estate markets everywhere. Making homes camera-ready for online photos, videos and virtual tours becomes even more important when social distancing is the norm and local and state governments issue "stay at home" mandates to slow the spread of the novel coronavirus.
The National Association of Realtors' 2019 Profile of Home Staging survey indicated that 40 percent of buyer's agents said staging had an effect on how buyers see a home. Eighty-three percent of buyer's agents said that staging makes it easier for buyers to see themselves living in the home.
For some sellers' agents, staging is routine. The survey showed that 28 percent stage every home prior to selling, while 13 percent only stage the homes that are difficult to move.
"You have so many better opportunities for the seller and for you to increase your average price point and to get more listings and increase your exposure and that sort of thing," Kuhl said of learning the art of staging, presenting and marketing homes. "I don't know why an agent wouldn't want to learn all these other skills to make things easier for themselves and expand their business."
Kuhl and Donawa emphasize the importance of staging to the marketing packages they put out for their clients. They have a team of vetted videographers who may take six to eight hours to shoot footage for videos that go out on multiple social media platforms. Though they sometimes use professional stagers, they have an extensive collection of staging materials. Donawa expects their model of staging and selling to become more common.
"Buyers are now very visual and the online element is really strong," Donawa said. "I think there's a greater need for staging services. Any time there's an increased need in the marketplace, you're going to have the dynamic of supply and demand. We have a couple of key stagers that we use and we trust, but I would anticipate an influx of this business type. The demand is increasing for those agents and those sellers who understand the value in the need of creating that illusion of the perfect house for the buyer so that they can visualize themselves living there."
Greenwood expects the trend toward concierge services to give professional stagers a boost.
"They should see more opportunities with concierge programs because we are able to use Concierge for staging purposes," she noted. "In the past where we may have struggled to get their clients to spend money to stage a home, we're now able to use the Concierge funds to hire someone to stage it properly. I would think that this business would only provide more opportunities for stagers."
The HGTV effect is real, too. Of the agents who responded to NAR's home staging survey, 38 percent said that programs depicting the buying process have an impact on their business, and 10 percent said that staged homes should look the way they appear on television.
"These days, anything that is presented online is edited to look the best it can look," Greenwood said. "The younger generation of homebuyers isn't used to seeing anything that needs some work. They're used to seeing a finished product."