While 2020 will always be known as the year of COVID-19, it might also go down as the year of the suburb.
The flight to the suburbs has become a growing preference for buyers, but renters are also finding respite in the outskirts of larger metro areas. That could help continue to drive new construction of apartments in suburbs across the country, according to a new report from Rent Café.
The study noted that 17 of the top 20 suburbs building apartment units over the last five years have occurred in Southern and Western states. Eight of the top 20 were in Texas.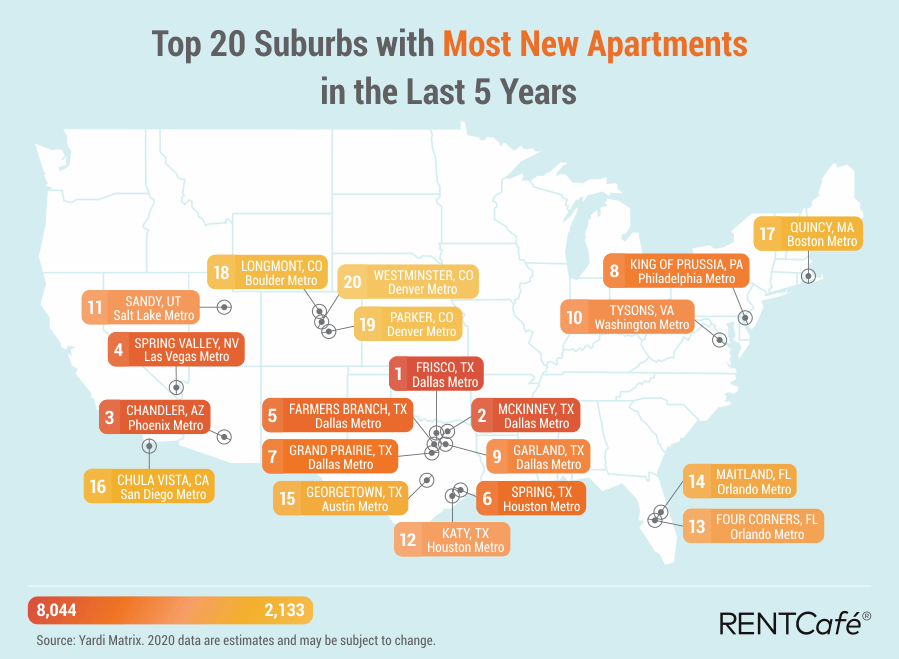 "These locations are also great options for those considering a move to the suburbs because of their proximity to the core cities – 12 out of the 20 suburbs on our list are located no more than 20 miles away from an urban center," the report noted.
Five of the Texas cities on the list were in metro Dallas — Frisco was No. 1 on the list, with 8,044 new units; McKinney was second with 4,843; Farmers Branch was fifth with 3,788; Grand Prairie was seventh with 3,308; and Galand was ninth 2,865.
The Houston-area suburbs of Spring and Katy ranked sixth and 12th with 3,775 and 2,314 units, respectively. The Austin suburb of Georgtown ranked 15th with 2,249 units.