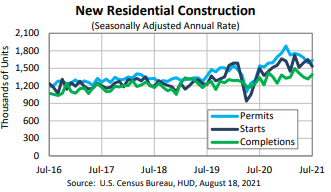 The pace of new residential construction fell on a month-over-month basis in July.
Privately owned single-family housing starts slid 4.5% to 1,111,000 units, according to the U.S. Census Bureau and the Department of Housing and Urban Development. Year over year, that represents an 11.7% gain from the July 2020 rate of 995,000.
Including the single-family rate and that of buildings with five or more units, the overall national rate was down 7% month over month to 1,534,000.
The seasonally adjusted annual rate for privately owned housing units authorized by building permits was at 1,635,000 in July, up 2.6% from June's revised rate and up 6% from July 2020.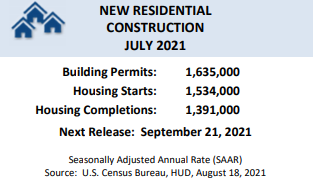 "The bright spot in an otherwise underwhelming report comes from the increase in the overall number of permits issued, which can signal how much home construction is in the pipeline," First American deputy chief economist Odeta Kushi said. "The importance of more home building cannot be overstated. Inventory has been increasing in recent months, but we have underbuilt for a decade, and July's month-over-month decline in housing starts isn't welcome news."
Privately owned housing completions hit an annual rate of 1,391,000 in July, up 5.6% from June's revised rate and 3.8% from a year earlier.
By region, July new construction activity was strongest in the South, where it rose 2.1% from June, followed by the Midwest, where it fell 6.9% and the West, with an 11.3% gain. The pace of housing starts plunged 49.3% in the Northeast, however.
"There are concerns that higher new home prices may be causing some would-be buyers to pull back from the market," Kushi said. "Not to mention, builders continue to face a shortage of skilled labor, materials and lots, all headwinds to increasing the pace of new home construction."