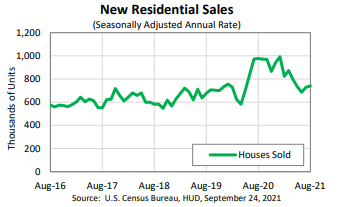 New-home sales rose 1.2% on a monthly basis in August to a seasonally adjusted, annual rate of 740,000, while the median sales price was roughly flat at $390,900, the U.S. Census Bureau and the Department of Housing and Urban Development reported.
On a year-over-year basis, new-home sales were down 24.3%, according to a press release.
The seasonally adjusted estimate of new houses for sale at the end of August was 378,000, representing a supply of 6.1 months at the current sales rate.
"Demand for new homes remains strong as household formation continues to grow, and purchasing power is buoyed by historically low mortgage rates," First American Deputy Chief Economist Odeta Kushi said. "The lack of existing homes for sale nationwide to meet this demand provides fertile ground for new construction to accelerate."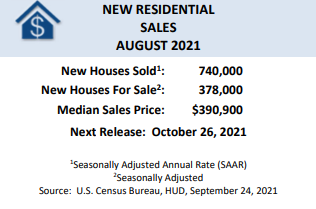 By region, the number of new homes sold in the Midwest plunged 31.1% month over month to 51,000 on an adjusted basis, while they were up 26.1% in the Northeast at 29,000, up 6% in the South at 445,000 and up 1.4% in the West at 215,000.
Kushi noted that by stage of construction, the share of completed homes sold was at its lowest point since 2005 in August, thanks to supply-chain disruptions, rising materials costs, delays and shortages of lots and labor.