Houston is the 23rd most walkable city among the 50 largest U.S. cities, with a walk score of 50 (out of 100), according to Walk Score.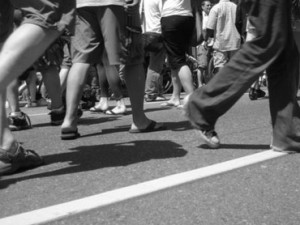 Walkability can increase property value, allow commuters to save money, and promote both personal and environmental health, among other benefits, yet only 12 percent of Houston residents are said to have a Walk Score of 70 or above. In the most walkable city, New York, 90 percent of residents have a Walk Score of 70 or above.
Houston's most walkable neighborhoods are Neartown-Montrose (82), Greenway/Upper Kirby Area (78), and Midtown (77); the least walkable neighborhoods were Hunterwood (11), Lake Houston (14) and Minnetex (16).
Individual neighborhoods were also ranked in this study. Topping that list is Montrose at 82 percent, Upper Kirby at 78, and at the very bottom with 11 percent is Hunterwood in Northeast Houston.
In New York, only 2 percent live in car-dependent neighborhoods, but in Houston 46 percent live in car-dependent areas, leaving 54 percent with a Walk Score of at least 50–opposed to 98 percent in New York. The car-dependent areas are one of the largest burdens on Houston's score, demonstrating that there is little walkable access to amenities in these areas.
KUHF FM, Houston public radio weighed in on the issue, adding that "as any local knows, navigating your way around Houston on foot can be very different depending on the time of year." Walk Score's Chief Technician Officer Matt Lerner replied that "when it comes to walkability, weather isn't a factor."
"You know it's funny, weather matters less than people think. For example, you have cities like Minneapolis, which is a very cold city, but yet you see a lot of people walking and biking. What we've found at walk score is that the most important determining factor in terms of whether people walk, is whether you're close to the kinds of things that people want to walk to on a daily basis," Lerner said to KUHF.
With a thriving housing market, job growth, and more ideal conditions in Houston, a further improved Walking Score could provide an extra boost to the housing market, as rising gas prices push commuters toward more cost-effective options.
"We also had an interesting study done by a group called CEOs for Cities that showed that one point of walk score can be worth up to 3,000 dollars depending on the Metro area. The National Association of Realtors just released a study that shows that two thirds of home shoppers rate being within easy walking distance as a key factor in deciding where to live."