Houston developer Bridgeland recently achieved a fourth place rating on Metrostudy's list of top-selling master-planned communities, with strong sales (up 67 percent in 2010) and ambitious plans for further development, according to a press release. Sales continued to grow this year, at an average rate of 8 percent.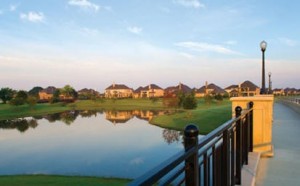 Bridgeland has previously received awards including Community of the Year during the 2010 Silver Awards and The Nationals 2009 Gold Awards (each given by the National Association of Home Builders), as well as Best Planned Community in the 2009 Houston's Best awards.
"As we mark our fifth anniversary this fall, Bridgeland has thousands of residents, approximately 1,200 occupied homes and a list of amenities that would equal or surpass communities in their 20th year of development," said Peter Houghton, Bridgeland's vice president, in a statement. "We have set a strong foundation for this 25-year project."
One neighborhood, Lakeland Heights, was opened in 2010; the community offers homes, retail and amenities, as well as a pedestrian-friendly environment. Bridgeland was further applauded for their donation of a homesite within the community to the Benefit Homes Project of the Greater Houston Builders Association.
Pending construction plans for Lakeland Village include the first village center, a mixed-use small "downtown" area with a medical office and a private school.
Furthermore, Bridgeland plans to develop another collection of neighborhoods named Parkland Village. Bridgeland is also expecting to complete a 15.2-mile extension of the Grand Parkway from U.S. 290 to Interstate 10 by 2014, allowing Bridgeland residents an easier commute to potential employment centers.
"Our goal is that each village have its own distinctive setting and charm, enhancing Bridgeland's product offering and amenity palette," Houghton said in the release.
"With its wide green spaces and large lakes, Bridgeland has one of the most spectacular drive entries of any community in Houston," said Will Holder, president of Trendmaker, in the press release. "And the distinctiveness of the community doesn't end at the entrance. There are no large walls surrounding the community, homesites are terraced and they've put in many amenities early on in the project. It's a development like none other in the marketplace."