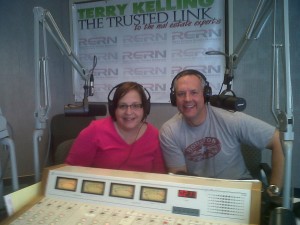 A key element in President and Broker of Bernstein Realty Amy Bernstein's management philosophy is being an active residential real estate broker enables her to guide her agents with current experiences. Bernstein's proactive philosophy and business model not only earned her a spot in the Houston Business Journal's Top 10 Residential Real Estate Professionals list, but also led to an invitation for her to talk about her 25 years of professional experience on Terry Kelling's radio show, "Real Estate Radio," on News Talk 1070 AM KNTH.
Bernstein and Kelling met earlier this summer at NRG's Extreme Networking Top Producer Luncheon. Kelling then invited Bernstein to be a guest on the radio show, which airs every Saturday from 3 p.m. to 4 p.m. on 1070 AM.
In explaining her management philosophy on the show, Bernstein said, "I have unbelievably great agents at Bernstein Realty and I am very fortunate for that. I feel it is important to be an active participating broker; I'm right alongside my agents. We have monthly sales meetings and we all learn from each other." It is this kind of work ethic that has caused the spotlight to fall over Bernstein's successful career and management style.