The anxiously awaited Houston Association of Realtors (HAR) application for the Android was launched on September 19th. The app is now available for download in the Android Market.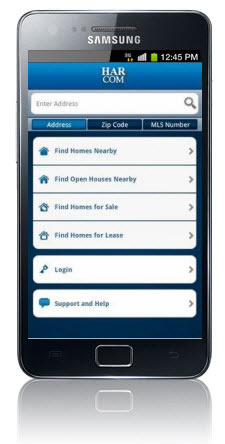 The app will be available for use by consumers and HAR members alike. Consumers will be able to use the HAR residential property search to locate properties that fit their interests, bookmark favorite listings, and review recent searches. Members will be able to access MLS listings, view leads, listings, and access their company's listing inventory through the app.
The application is expected to make locating residential listings much easier for consumers and HAR members. Not only will the award-winning HAR search engine be in use, but consumers and agents will be able to filter searches by square-footage, geographic location, price and more. Photo galleries will be available for many listings, and users will be able to locate open house schedules on top of basic property information. The MLS system for the app is updated every 15 minutes. Google mapping Street View is available, and maps adjust as users pan across the screen. Contacting agents and brokers is made easy by this application.
MLS subscribers will be able to access a wide range of listing information through the app, such as complete listing details, number of days on the market, listing price changes, showing instructions (if applicable) and tax information (including values and tax rates).
On September 28th, the app was given a rating of 4.7 out of a possible five stars. This average came from 10 individual user ratings.
For more information, and instructions on installing the app, visit http://www.har.com/mobile/dispAndroid.cfm?pageID=android.