Built by Morning Star Builders and marketed by the Prudential Gary Green Realtors Builder Marketing Division, the Houston Southern Living Showcase Home will be going on tour to benefit two local charities beginning today.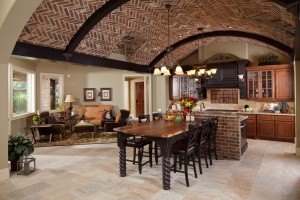 The Southern Living Showcase Home is located at 15026 Hidden Valley Waters Drive in the Hidden Falls Subdivision in Cypress, Texas 77429.
The Home's Fall tour begins today, October 6, and will continue until October 23. The hours of operation will be Thursday from noon to eight p.m. and Friday through Saturday from noon until six p.m. The Fall tour will benefit HomeAid Houston, a Greater Houston Builders Association (GHBA) sponsored charity which promotes the care of homeless individuals.
The Home will also have a holiday tour, which will benefit Be An Angel, an organization which provides services and specialized programs for handicapped children. The holiday tour will run from November 3 to November 20, and will be operating on the same daily schedule as the Fall tour. The Showcase Home will be decorated for the holidays.
$10 donations for either tour will be accepted at the door or online, at http://www.homesbymorningstar.com.
Morning Star Builders LTD has received numerous awards including, most recently, the Houston's Best Custom Home Design Award from $1.2 million to $1.8 Million by GHBA.
Prudential Gary Green Realtors is the top listing and selling real estate firm in the Houston area. Gary Green was established in 1963 and became affiliated with Prudential Realtors in 2000. There are currently 20 company-owned offices in the Houston metropolitan area.
For more information, visit http://www.GaryGreene.com, or contact listing agents Jean Pearcy, 281-686-2544, or Tina Waggoner, 832-797-7943.