Though it was delayed by the government shutdown, the Census Bureau's numbers on construction spending were positive all the same.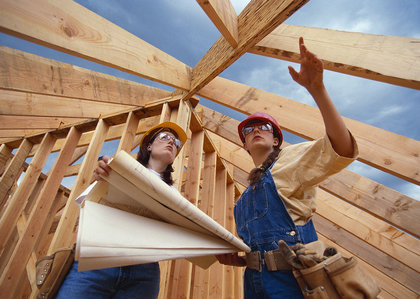 Well, it finally made it!
Though delayed by three weeks because of the government shutdown, the Census Bureau's latest data on construction spending finally came out this week, and for the most part, it was a promising, encouraging report.
Construction Spending in August
Overall construction spending for August was up 0.6 percent from July to August to a seasonally adjusted annual rate of $915.1 billion; that's 7.1 percent above August 2012's mark, and for the first eight months of this year, construction spending has amounted to $581.9 billion, a 5.9 percent uptick over the same period in 2012.
Other important tidbits include:
Private construction was up 0.7 percent from July to August, though private non-residential was only up 0.1 percent.
Residential construction, meanwhile, was the strongest of the bunch, rising 1.2 percent to $340.2 billion; though residential construction remains 50 percent below its early 2006 peak, it has grown 49 percent since bottoming in 2009, and is now up 26 percent on a year-over-year basis.
Public construction, meanwhile, was a bit more modest, rising just 0.4 percent from July.
Important Trends Going Forward in Residential Construction
As we indicated above, residential construction was once again the strongest sector of construction spending, and as Bill McBride of Calculated Risk explained, that bodes well for the economy.
After all, residential construction is typically the largest category of construction spending, and though that had not been the case in the post-boom down years, residential has leapt to the top of the pack this year, which is a good sign for housing and the economy, given how so many jobs are intertwined with the construction market.
Also, McBride noted that we can expect additional spending on nonresidential construction projects to pick up near the end of the year. Nonresidential, he wrote, usually lags behind the rest of the economy, and considering that office, retail and hotel construction are still at historically low levels, there's plenty of room for growth – a fact the most recent Architecture Billings Index certainly drove home.