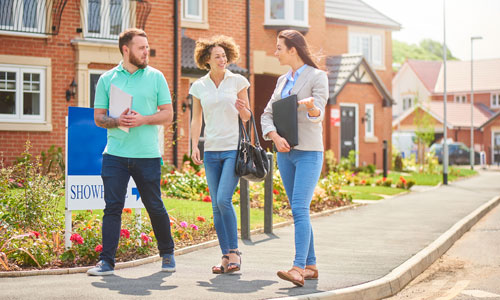 The American public views the real estate industry more positively than at any time in the last decade, according to new research from Gallup.
Based on its annual polling of public sentiment, Gallup found that 44 percent of Americans now view the real estate industry positively, compared to 21 percent who view it negatively. The difference between those two numbers, which Gallup calls the "net positive rating," therefore came out to 23 percent, which is not only the highest level for real estate since 2005, but also a higher rating than Gallup's average for the other industries it polled, which had a net positive of just 14 percent.
An industry on the mend
Gallup's new poll marks a dramatical reversal for the real estate industry. Peaking at 35 percent in 2003 – which, coincidentally, was also the peak of the housing bubble – the industry's net positive rating fell in tandem with the marketplace, ultimately reaching a floor of -40 in 2008 (meaning that the industry's negatives were 40 percentage points higher than its positives).
Since then, though, the industry's reputation has recovered, and in the last five years, the net positive rating has risen from -29 all the way to the present 23, a remarkable 52-percentage-point change.
Here is a graph with additional details: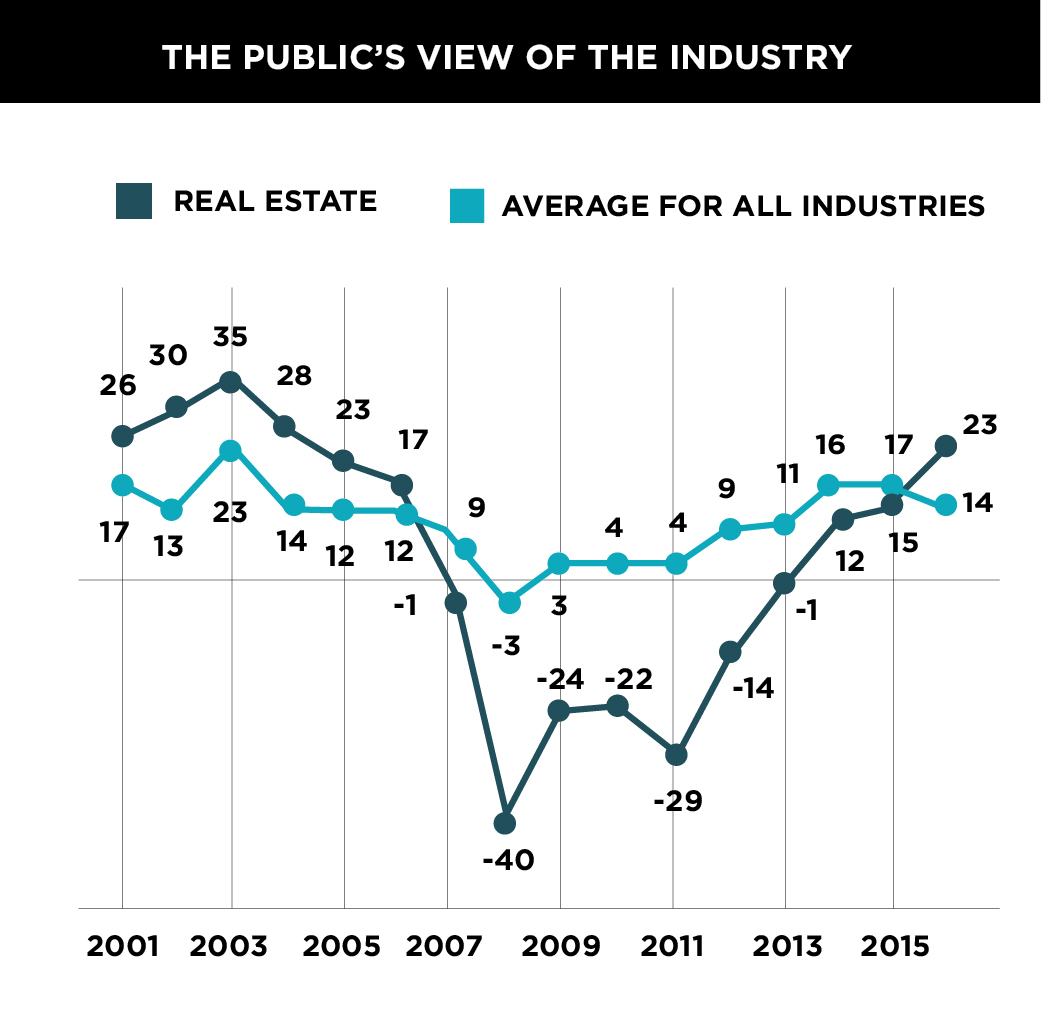 Honesty and ethics among real estate agents
In addition to its polling on industries, Gallup also surveys Americans on how they feel about specific professions, including real estate agents – though within that body of research, the results are mixed.
On one hand, the public's view of agents has improved. In both 2011 and 2015 (Gallup conducts the survey irregularly), 20 percent of the public viewed agents in "high" or "very high" regard, which is tied for the highest such percentage since 1977: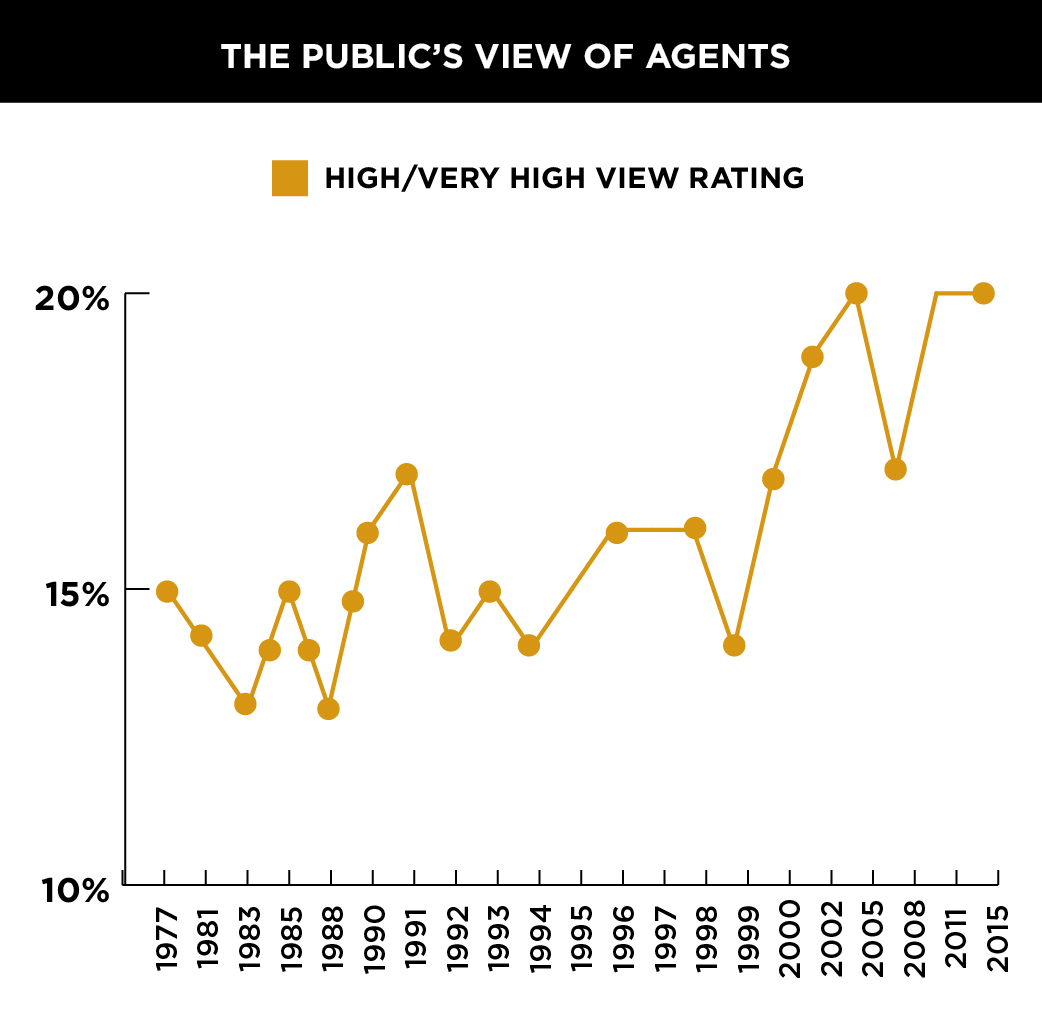 On the other hand, agent sentiment cannot hold a candle to other, far more admired professions. For instance, 44 percent of the public views funeral directors in high/very high regard; 60 percent give high school teachers sterling marks; 68 percent are positive on pharmacists; and at a very distant No. 1, 85 percent of the public holds nurses in high esteem.
And though the public is viewing agents on relatively positive terms, those sentiments have been markedly consistent since 1977; so while the public has greatly softened its view of the real estate industry, its view of agents has not improved in kind.
Real estate as an investment
Perhaps the most encouraging change of all is how the public views real estate as an investment, which Gallup polled in April. Since 2011, the share of Americans who view real estate as their best long-term investment has risen from 19 percent to 35 percent, and is now far and away the public's most preferred investment option. By comparison, gold has fallen from 34 percent to 17 percent, while stocks/mutual funds have risen from 17 percent to 22 percent.
Here is a graph that shows those trends: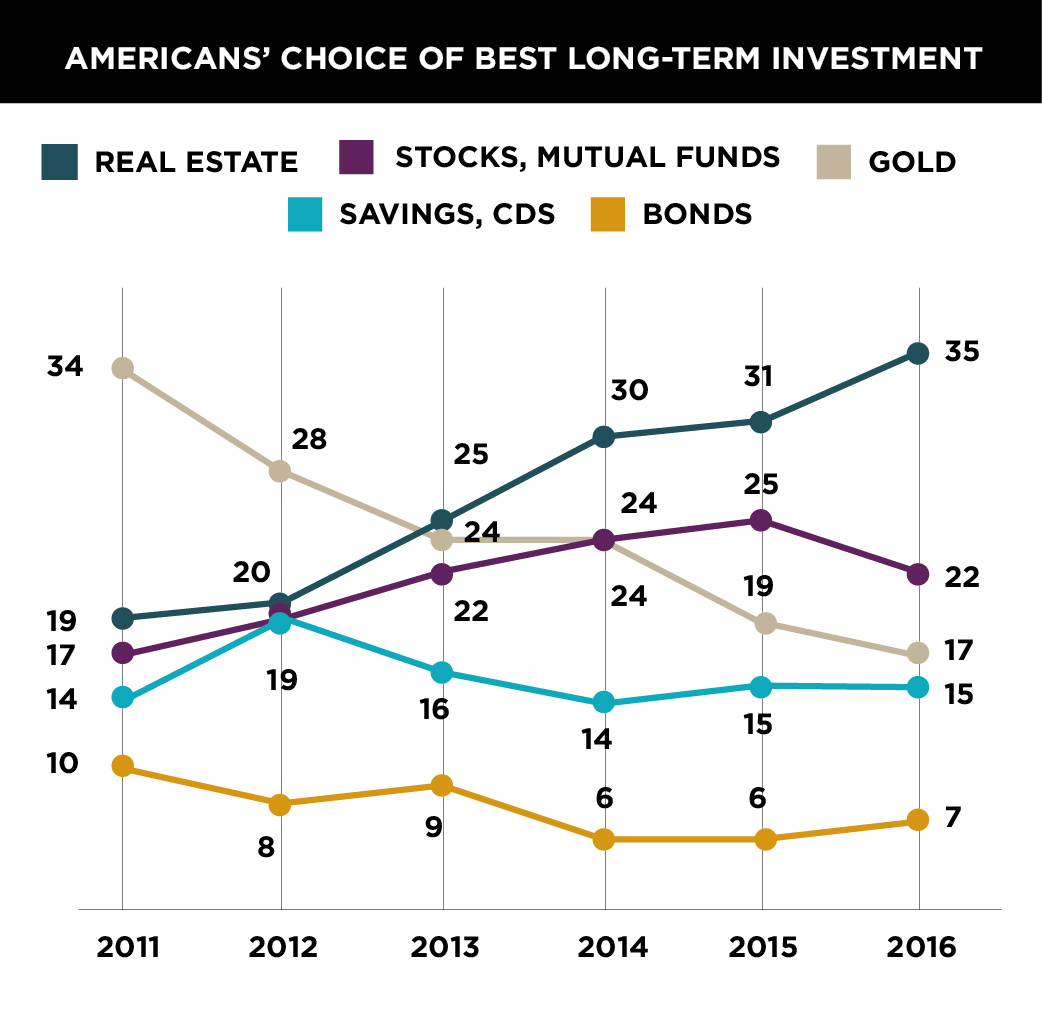 As Gallup broke it down, the public's radically changing views on investments can be chalked up to a simple matter of price. While the average sales price of new homes rose from $259,300 in Aug. 2011 to $348,900 when Gallup conducted the survey, the price of gold plunged from $1,910 per ounce to $1,254. When one investment rises in price by 34.55 percent – and another declines by 34.35 percent – it only makes sense that the public's views would change.