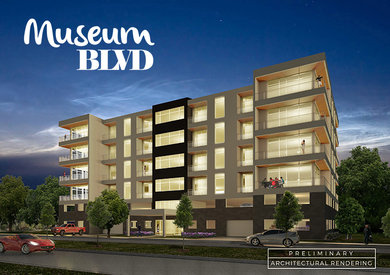 Surge Homes announced today their new affordable condominium Museum District development, Museum BLVD, on 4819 Caroline St.
The 50-unit condominium offers lofts, one- and two-bedroom homes and penthouses all within close proximity to the cultural and recreational amenities of the Museum District. Museum BLVD is a nine-minute walk to Herman Park and an 11-minute walk to Wheeler Station, earning the tower a Walk Score of 81 and making it among the most walkable places in the city.
The units range from 420 square feet to 1,099 square feet and include parking in a gated garage on the first floor of the building. Every home is equipped with European-inspired kitchen and bathroom, and include washer and dryer connections.
Princes for the units range between $140,000 to $340,000, which is lower than the area's medium home values of $745,000, according to Houston Association of Realtors.
"We saw a great demand for affordable condominiums or town homes for this great site on Caroline street," said Ben Lemieux, co-owner of Surge homes. "We kept listening to our future homeowners and saw that demand shifted overwhelmingly towards condos in 2016."
Museum BLVD is the third of several Surge Homes' communities to open in Houston's Inner Loop, following Parc at Midtown and Upper Richton. The tower will be released for sales in a few month and the move-in date is expected in 2018. Prospective homebuyers can gain priority of securing of a home through Surge Homes' VIP reservation program.