Nearly three feet of rain has fallen in some parts of Houston and much more is expected in the upcoming week, according to the National Weather Service (NWS), as Hurricane Harvey continues to pass through southeastern Texas.
The storm made landfall late Friday as a Category 4 hurricane, leaving a number of homes and businesses throughout Houston flooded, damaged or destroyed. As of Monday morning, the NWS has reported that Harvey has brought more than 20 inches of rain to portions of southeast Texas since Thursday night.
The forecast for Monday calls for two to five inches of rain in Houston, but the NWS reports that this is merely a lull in the storm and another 15 to 24 inches is expected through this Thursday.
"We're in a lull right now but will get back into moderate to heavy rains today and into tomorrow," said Dr. Louis Uccellini, director of the NWS, to the Houston Chronicle. "The peak flow and depth of this flood will max out in the Wednesday–Thursday time frame."
FEMA Administrator Brock Lock is estimating that up to 30,000 people may need shelter and 450,000 could be eligible for federal flood victim assistance.
In a press conference Monday morning, Houston Police Chief Art Acevedo said authorities have rescued 2,000 people from flooding in the city so far with 185 critical rescue requests still pending.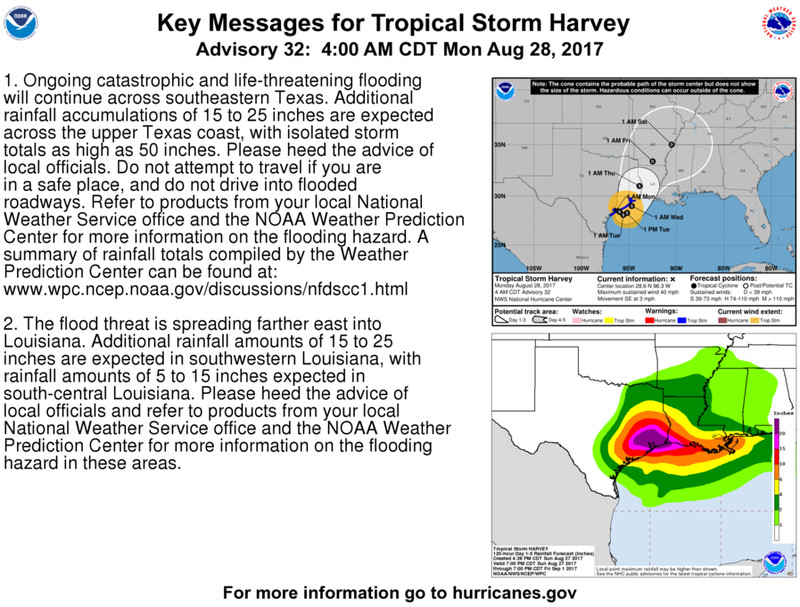 The extreme rainfall caused the U.S. Army Corps of Engineers to begin releasing water from the Addicks and Barker reservoirs early Monday morning, which was hours earlier than officials planned to release the two dams, according to the Harris County Flood Control District.
The rising tides within the dams are forcing water to swell and spill upstream into neighboring communities near the dams and putting residents in low-lying homes in a dangerous situation.
"We will have to release water to reduce the risk flooding in the Houston metropolitan area," Col. Lars N. Zetterstrom with the U.S. Army Corps of Engineers said Sunday night. "Until we realize the actual rise we can't predict how many homes would be impacted."