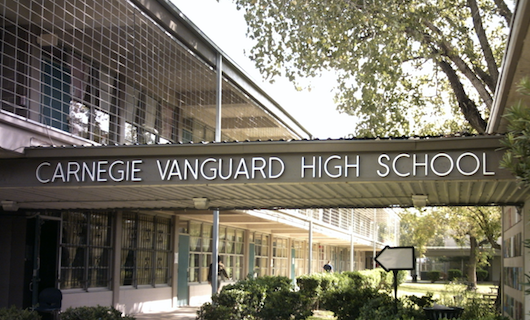 Nearly 70 high schools in the Houston area made U.S. News & World Report's 2018 national rankings.
Carnegie Vanguard was the highest ranking Houston high school coming in at No. 15 nationwide and No. 4 in Texas. It also came in as the fifth best magnet school in the country. The top three Texas schools are all based in Round Rock and Dallas.
U.S. News evaluated high schools across the country in performance in reading and mathematics state assessments, graduations rates, the percentage of economically disadvantaged students and the percentage of students taking Advanced Placement and/or International Baccalaureate exams.
Carnegie Vanguard received a 100 on college readiness, AP testing, mathematics proficiency and reading proficiency. The high school has a relatively low student-to-teacher ration of 19 to 1 with 32 full-time teachers and only 621 students.
The Houston ISD led the pack with 17 schools that made the rankings, followed by eight in the YES Prep Public Schools Inc., seven in the Cypress-Fairbanks ISD and six in each of the Harmony Public Schools and Katy ISD.
"Top-ranked schools succeed in three main areas: exceeding expectations on state proficiency tests, offering challenging coursework and graduating their students," said Anita Narayan, managing editor of Education at U.S. News. "We encourage parents to use the Best High Schools rankings and data to research which schools in their state and nationwide are ensuring students are well-equipped for the future."
See the top 10 Houston-based schools below.
| | | | | | |
| --- | --- | --- | --- | --- | --- |
| | Texas Ranking | U.S. Ranking | U.S. Magnet School Ranking | U.S. Stem School Ranking | U.S. Charter School Ranking |
| Carnegie Vanguard High School | No. 4 | No. 15 | No. 5 | No. 199 | N/A |
| DeBakey High School for Health Professions | No. 7 | No. 38 | No. 9 | No. 10 | N/A |
| Eastwood Academy | No. 11 | No. 56 | N/A | N/A | No. 20 |
| Challenge Early College High School | No. 15 | No. 91 | No. 25 | N/A | No. 30 |
| YES Prep North Forest | No. 16 | No. 94 | N/A | N/A | No. 32 |
| YES Prep – East End | No. 17 | No. 97 | N/A | N/A | No. 34 |
| YES Prep – Southwest | No. 18 | No. 106 | N/A | N/A | No. 36 |
| YES Prep – Gulfton | No. 20 | No. 118 | N/A | N/A | No. 40 |
| YES Prep – West | No. 21 | No. 123 | N/A | N/A | No. 42 |
| YES Prep – Southeast | No. 25 | No. 131 | N/A | N/A | No. 45 |