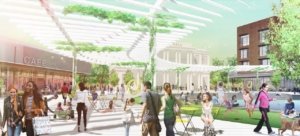 Development for a mixed-use commercial and residential development in Jersey Village has been announced by Houston-based architecture and development firm Collaborate. The 43-acre project will be called "The Village Center" and will not only house the area's city hall, but also restaurants, retail space, apartments and a hotel.
"[The project is] the result of quite a bit of effort by the city over the last several years to try and make a centerpiece for the community," city manager with Jersey Village Austin Bleess told Houston Business Journal.
The project will be located south of Hwy. 290 near Jones Road. Architecture and development firm Collaborate will invest about $145 million in the project. The first phase of development is set to begin by May 2022 and will include the construction of an amphitheater, municipal town square, offices and more. The developer plans to have the project completed after 36 to 48 months of work.
Funding for the project has been provided by private-sector investors with Oppenheimer & Co. Inc. overseeing the $145 million in financing. The new city hall and other public sectors will be financed through public funds.
"This is a game-changer for Jersey Village," said Bleess. "It's going to elevate life in the city of Jersey Village in every way. There's really nothing like this along the 290 corridor."