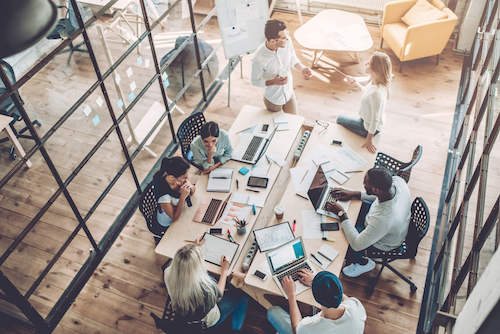 RE/MAX to partner with Redfin through referrals
RE/MAX announced in a March 18 press release that it had entered into a "strategic alliance" with Redfin to boost sales at both nationwide brokers through referral incentives. In about 5,000 ZIP codes around the U.S. where Redfin does not have a significant presence, the RE/MAX agents may accept leads through Redfin's listing platform at a reduced commission split rate. In other markets, RE/MAX agents still have the option of joining Redfin's Partner Program and accepting referrals at a different negotiated finder's fee.
"The RE/MAX agents who are already our partners get some of the highest customer satisfaction scores in our program," Redfin CEO Glenn Kelman said in the press release, explaining the decision to partner with the brokerage. "Our own research has shown that RE/MAX agents are more likely to stay at their brokerage than agents at any other major traditional brokerage, and it is well known that RE/MAX agents are far more productive than the industry average."
The partnership also extends to most provinces in Canada, where Redfin recently launched its listing platform. RE/MAX also noted that this new alliance is not intended to disrupt existing agreements that its franchises have already signed.
"Where both companies have agents, the current spirit of competition will continue, and the
agreement does not prevent either brokerage from serving clients anywhere," the RE/MAX press release explained. "Where Redfin already works with Partner Agents from different brokerages, those Partner Agents can continue to participate in the Redfin Partner Program. Agents from different brokerages can continue to apply to become Redfin Partner Agents in areas not covered by the exclusivity agreement."
Coldwell Banker launches first rebrand in 40 years
Coldwell Banker unveiled plans for its first global rebranding effort in almost 40 years, including a new logo and mission statement, part of an effort it calls "Project North Star."
"We wanted every single one of our agents to be on this journey with us, so we decided to take the unconventional—but crucial—step of making this a transparent rebrand," Coldwell Banker president and CEO Charlie Young said of the project, which was first announced at the company's Generation Blue Experience convention March 18.
The company is also adopting a new mission statement: "We empower our people to leave their mark on the world of real estate." The brand's core values remain the same, according to the official press announcement: "home, awesomeness, ingenuity and excellence." Coldwell Banker said in a survey of agents and even competing affiliates regarding the changes, that 80 percent felt the new logo and mission statement were "more innovative."
Changes related to Project North Star are expected to be fully rolled out next year.
Opportunity Zones bring rapid price growth
A new tax credit opportunity available to real estate investors was among the most attractive features of the sweeping changes to the federal tax code passed late in 2017. Known as the Opportunity Zone program, developers and public policy experts were confident that it could spur economic growth in underdeveloped areas of the U.S.
That appears to be coming true so far, but only from one angle. A recent study by Zillow economists found that even before the full list of around 8,700 tax-advantaged Opportunity Zones was unveiled, property sales prices skyrocketed in designated Census tracts where developments are eligible for the new benefit. Compared to similar areas, tracts that ended up being designated Opportunity Zones saw real estate sale prices grow up to 30 percent on an annual basis. Meanwhile, similar areas that are not eligible for the new tax breaks saw prices grow at just a 2.5 percent annual rate as of the beginning of 2019.
Still, even certain Census tracts considered eligible for Opportunity Zone status that were not ultimately selected for the designation saw similar price growth trends as those that were selected. That could indicate a high degree of uncertainty in these trends, Zillow's Alexander Casey explained.
"It's crucial to note that Opportunity Zones are still very much in their infancy, and we are measuring very early signals of how the tax breaks may correspond to real estate trends," Casey wrote. "It remains to be seen whether this uptick in Opportunity Zones is a flash in the pan, or the start of something larger."
Homebuilder sentiment unchanged for March
The latest reading on homebuilder sentiment from the National Association of Home Builders remained unchanged in March compared to the prior month. The NAHB's Housing Market Index, produced in conjunction with Wells Fargo, stayed put at 62, which still indicates mostly positive confidence levels among industry leaders. Analysts took this as a reassuring sign, particularly after new construction activity picked up at the beginning of 2019. Still, the HMI remains below its 2018 average of 67, and stuck around where it was in 2016.
Businesses sour on California's hot home market
California is home to some of the hottest housing markets in the U.S., and its economy has taken off along with the dynamic tech sector. While that's good news for those with a foothold already established, evidence is mounting that the state's economy and property markets are almost too hot to handle. A March 19 Wall Street Journal article documented a rising trend of businesses moving out of California, often relocating to Texas, where the economy is still strong but real estate costs, among other expenses, are lower.
Paradoxically, California's economy may be creating jobs faster than it can fill them. Housing availability has proven to be a key limiting growth factor: Around 80,000 homes per year have been built in California since 2009, far short of the estimated 180,000 homes needed to keep pace with population growth. In turn, home prices have risen faster than wages. Increasingly, employers with ample job openings are unable to convince prospects to relocate from more affordable parts of the U.S. The president of one state business development group called the situation "a crisis," according to the Journal.