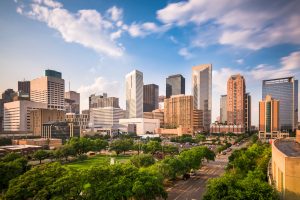 For the second year in a row, more people moved out of Houston than in
After years of population growth, The Houston Chronicle reported the city lost 19,500 residents over the last two years. The decline can be attributed to 2017's economic downturn and Hurricane Harvey, which forced residents out of their homes in 2018. Because of the population dip, home starts remain flat at around 30,000 new builds last year and the same expected for the next two years.
Single family home sales up for third consecutive month
As previously reported, single family home sales were up in April, marking the third consecutive month for positive home sales in Houston. After January's surprising downturn when sales fell 8.4 percent, Houston's housing market looks a lot more promising. April had the highest home sale growth so far this year, putting 2019 on pace to match or top last year's numbers.
Two Houston markets account for nearly one-third of new home starts
According to the Houston Business Journal, two out of nine markets had the highest share of new home construction in Houston over a one year period. The West Southwest area, which encompasses the suburbs of Sugar Land and Cinco Ranch, had the most home starts, accounting for 15.5 percent of total new home constructions in Houston. The West Northwest region followed with 13.4 percent.