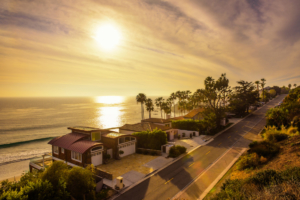 If you're a real estate agent, there are many perks of selling a coastal home to a consumer, whether if it's a rental or a permanent residence. But, there are many considerations that should be rendered to the consumer beforehand, so they can have full disclosure on their home investment. Let's review the considerations for agents when informing consumers in the middle of the buying process.
Flood insurance risk
A FEMA study last year shows that 41 million Americans are at risk of flooding, more than three times the current estimate. The effects of recent hurricanes, such as Hurricane Harvey and Hurricane Florence in the Carolinas, only shine a brighter light on weather-related issues for residents in coastal communities. In fact, about one in 10 homes had flood insurance in counties hit by Hurricane Florence and FEMA grants only cover $33,000 in damages from flooding under the National Flood Insurance Program (NFIP).
Today, FEMA is looking to reform the NFIP with the intent to better reflect a coastal property's flood risk. The way flood insurance premiums are structured now under the NFIP is based on a Flood Insurance Rate Map Zone and Base Flood Elevation. Risk-Rating 2.0, the name of the NFIP's redesign of flood insurance rates, will also factor in characteristics such as the distance a building is from the coast, logical rating-variables like different types of flood or the cost to rebuild a home.
In the instance coastal properties are hit by another major weather event like Hurricane Florence or Michael that pounded Florida's Panhandle last fall, homeowners will not be able to repair their home without lifting it first per the 50 Percent Rule. The guidelines state that a building must be elevated and brought into compliance if damaged by any cause for which the repair costs are 50 percent or more of the value of the building, and the building is in a Special Flood Hazard Area (SFHA). This could have detrimental impacts for families living on the coast who don't possess the financial resources to pay for the damages to their property on top of lifting it after a storm.
Weather threats on coastal properties
Extreme weather events are getting worse for coastal residents nationwide and it will be the residents who purchase these homes who will run the risk of experiencing damaging weather events as they're starting off on a higher baseline than they were 20 years ago. With properties becoming more vulnerable, housing costs have risen 11.5 percent over the last three years in North Carolina's Outer Banks and more than 60 percent in Miami beach year over year during the fourth quarter of 2018.
Yet, the few financial barriers to making a coastal move are enticing homeowners to take a leap of faith, which is a sales opportunity for coastal real estate brokers. However, the greater intensity and consistency of weather-related events, especially on the Gulf Coast in the past year, will still be a talking point that agents must address directly.
Nevertheless, consumers should be in the know about the growing threat of climate-related damage on their pocketbooks. In other words, as the waterfront lifestyle is appealing to many, it's crucial to be aware of the hidden (or not so hidden) costs down the road is disaster strikes.
Advice for coastal agents to present to buyers
There is no question that it is a buyer's market in real estate, but real estate agents within the industry need to keep the mindset of information being the focal point of consumer interaction. Here are a few tips for agents to keep in mind:
Search for private flood insurance options
The NFIP will not fully cover damages in the event of a weather-related disaster to your home. Thus, I strongly suggest purchasing private flood insurance that supplements your coverage if you get NFIP insurance first. Waiting for reform on the national level is not a smart investment.
Know your flood zone and the 50 Percent Rule
It's essential to understand before a buyer signs all the documents if their property is in a SFHA. If not, they won't need to harbor the expense of lifting their home, along with rebuilding it if serious damage is inflicted on their property.
Define weather-related incidents and home alternatives
If a homeowner purchases a one-story home in a flood zone, it would be wise to give the option for them to raise their home. If the home is above the floodplain, it is no longer bound by the 50 Percent Rule.
Randy Young is the CEO of ArcDesign, specializing in residential design and drafting, and has been providing custom home design, renovations and permit designs for residents and contractors since 2003. Young went on to attend Indian River Community College in Ft. Pierce, FL and Cumberland Community College in Vineland, N.J. majoring in architectural engineering. Email: [email protected]