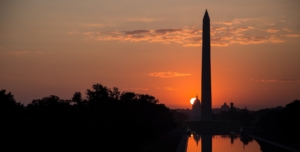 While much of the buzz around the National Association of Realtors' Legislative Meetings revolved around the fact that President Donald Trump would be the first sitting president to accept the organization's invitation to address members in their annual pilgrimage to the nation's capital since George W. Bush in 2006, there's plenty of news to uncover in this five-day conference.
Setting priorities
Every year at the event, colloquially known as Midyear, NAR sends members and local government affairs directors to meet with their representatives on the Hill to lobby for change, usually with a list of talking points that are important on a national level. This year, three topics topped the list of legislative priorities: flood insurance, opportunity zones and fair housing.
While NAR is most concerned with extending the National Flood Insurance Program's reauthorization so that transactions aren't delayed or canceled in flood zones when it expires on May 31, the group is also seeking a longer-term solution and reforms to strengthen the solvency of the program overall.
There were a number of delays in finalizing the rules around Opportunity Zones, an investment incentive created as part of the 2017 tax reform bill, not the least of which was a historic government shutdown. While the Treasury Department released the first detailed look into regulations around the new program last month, they're still not finalized. And yet, if people who are interested in realizing the benefits of this program haven't invested by the end of 2019, they are not going to get the full set of benefits, at least under current rules. NAR is requesting an extension of this deadline to account for the delays.
The organization also instructed members to ask their representatives in Congress to support H.R. 5, a bill that passed a full House vote during the conference and is designed to extend Fair Housing rights to the LGBTQ community. The association noted that it's been ten years since it amended its code of ethics to require members offer equal service regardless of sexual orientation and would like to see federal laws follow suit.
The Local angle
Houston was represented by a delegation that included Houston Association of Realtors 2019 chair Shannon Cobb Evans, who emphasized the need to protect homeowners, buyers and sellers from the threat of flood damage through the National Flood Insurance Program. The program is set to expire at the end of May, and Cobb Evans noted that it has been renewed 10 times since 2017. Cobb Evans and her Texas colleagues pressed for a five-year renewal.
The list of elected officials the delegation met with is a lengthy one, and it includes Washington heavyweights like Republican Texas Sens. Ted Cruz and John Cornyn. Cobb Evans made it a point to emphasize, though, that Realtors spoke with one voice about the issues that mattered most to them, and that partisanship, in the binary Democrat/Republican sense, was not the approach the delegation took.
"We consider ourselves the Realtor Party, not a 'D' or and 'R.' We are solely interested in issues that impact our consumers and our members in relation to protecting private property rights."
The future of the FHFA
One much-anticipated meeting at Midyear was with newly appointed Federal Housing Finance Agency Director Mark Calabria. Many have been nervous about Calabria's criticism of the government's role in housing finance, especially since the administration announced plans to end conservatorship of government-sponsored entities Fannie Mae and Freddie Mac. Calabria told Midyear attendees that his intention is to "level the playing field to where all large financial institutions have similar capital." This will ensure the GSEs "have a good business model because they have good management and good execution — not because they have lower standards than everyone else," he said.
Calabria also assured the group that he has no plans to change loan limits during his tenure at FHFA and underlined support for the 30-year mortgage, an institutional lending tool of which he has been critical in the past.
The session gave NAR an opportunity to highlight its housing finance reform plan, which proposes transitioning Fannie Mae and Freddie Mac into private, shareholder-owned utilities that would continue to purchase, guarantee and securitize single-family and multifamily mortgage loans.
What's keeping NAR lawyers up at night
In a legal briefing for members, Lesley Muchow, NAR vice president and deputy general counsel, told attendees about a number of court happenings that may bear on the business of real estate professionals. She noted a 177 percent increase in litigation around the accessibility of websites under the Americans With Disabilities Act from 2017 to 2018, for example. The Department of Justice has issued a number of consent decrees that make it clear businesses must comply with the government's Web Content Accessibility Guidelines. Muchow suggested Realtors, associations and multiple listing service providers have their sites audited and inquire with vendors about making any necessary updates to avoid being sued.
Also, wire fraud is still a vexing problem for the legal and real estate communities. "From 2015 to 2017, there was a 1,100 percent rise in the number of victims in the real estate industry and an almost 2,200 percent rise in reported monetary loss. The monetary loss in the real estate industry is reported by the FBI to be the largest," Muchow told attendees. She noted that a case in Kansas last year resulted in a listing broker being found to be 85 percent liable for a buyer's losses from a wire fraud scam, and having to pay a judgment of $167,129. Quick action is essential in these cases; if reported within 24 hours, "there is some chance the financial institution and the FBI will be able to work together and stop the wire and recover the funds," Muchow said.