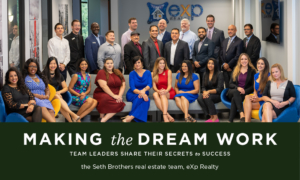 After 16 years of teaching children, Amy Lippincott decided to pursue real estate as her next career, even though her principal said she could always come back. Lippincott hasn't looked back. She has doubled down on real estate, and is among a growing number of real estate professionals who created their own team—first under the Better Homes & Gardens Gary Greene brand and now with Keller Williams.
"I was ready for a change. A friend was doing real estate and I thought I can do that and do it differently," said Lippincott.
She started out on her own, but the former physical education teacher yearned for the camaraderie that can come with a team. A friend joined in as her assistant and now her team includes seven agents, three assistants, and a stager.
According to the 2018 National Association of Realtors membership survey, more than a quarter of the respondents were members of a real estate team. And of those not currently on teams, nearly 10 percent said they have "strongly considered" joining a team and 30 percent have briefly considered joining or starting a team, according to the survey.
So what makes teams attractive?
We asked three top team leaders how they got their teams started, why they chose to create a team and how they chose their brokerage.
For Rene Sorola—one of the keynote speakers at Houston Agent magazine's Accelerate Summit on October 2nd—success in real estate was his ticket out of a job he hated. Sorola was a network IT specialist for banks, and it wasn't for him. So he started flipping properties as an investor. He attended an open house and someone suggested that he consider real estate.
"My business grew too quickly. I had too much business and had to outsource buyers," he said.
"After my first year, I was a part-time Realtor and had a full-time job. That was my first year, I hated my job so much as an IT specialist that I was gonna do whatever it took to gut my full-time job. I worked so hard my first year that I tripled my income. I was a rookie of the year and then the regional rookie for Keller Williams," recalls Sorola.
He knows what he wants in a team member: "Someone who hates losing more than they like winning. For my salesman, I need them to say, I cannot stand to lose so I will do whatever it takes to win; not sleep at night, work 20 hours a day, whatever it takes," said Sorola.
His eyes are cast ahead, always focused on profitability. "It's not about the ego and how many houses I sell. I've got to have good customer service. Keller Wllliams is perfect for teams large, small or middle. As long as they keep the lights on."
As the team lead, Sorola pays for the overhead of his team.
Keeping costs down and allowing more autonomy while growing the business are some of the perks of team building for the Seth Brothers, Sonit Seth and brother-in-law Kunal Seth.
To grow his business, Kunal Seth had a dream to have a "mega team" and be the best at what he does. So he and his brother-in-law set out on their own.
For 19 years, his partner was in real estate while Kunal was in corporate America with Deloitte and Touche, working with clients in the oil and gas industry. He decided to join the profession five years ago. Kunal said he decided to study the successful teams. "You have to have the right resources and to be a mega-team, you have to have leverage in the market," said Seth.
In the summer of 2014, the Seth Brothers brought on an administrative assistant. Kunal understands the importance of outsourcing certain details. "Your time is best spent on money-making opportunities. A lot of paperwork and transfer work can be outsourced. Before I added agents or marketing, I had to make sure the back end is well supported," he said.
Kunal and Sonit joined RE/MAX whewn they got licenced, and they worked together at until 2018 when they switched to the online-only eXp Real Estate.
"For us, we always wanted to be a mega team. We believe in having growth in such a way."
He said the former brokerage had a franchise model that did not work well for the Seth brothers. For example, with the old firm he experienced what he calls "location gridlock," a similar business could not be within a certain number of miles. "Also the fees and the costs," with the old brokerage firm, "while not an issue for us, it affected our hiring talent . There were monthly fees even if they were not producing."
After researching multiple organizations, they chose eXp because it does not have a brick and mortar structure, which can help them to lower the costs of business.
The Seth brothers have 33 team members, 24 licensed agents and the rest are in the marketing and transaction sides of the business. When hiring agents, they don't just look at experience. They use the DISC (Dominance, Influence, Steadiness and Conscientiousness) profile, a popular personality measurement system, to determine behavior. Kunal said he looks for those with high scores in the categories of Influence and Dominance.
When creating the vision for the Seth Team, Kunal noticed a trend. "All the top performers had forged relationships with the builders in an area and had preferred Realtor statues with them." Seth analyzed those factors and laser-focused on Riverstone, the expansive upscale master-planned community in Fort Bend County.
The team received top-selling agent awards for Johnson Development in 2016 and 2017. "We took a micro approach and 'macroed' it to Houston. We studied what others were not doing."