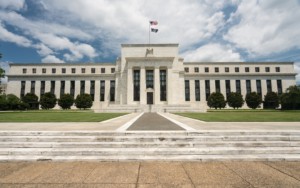 The Federal Reserve announced today  that it will cut interest rates further, to a top rate of 2 percent.  "The committee seeks to foster maximum employment and price stability," the statement posted to the Fed's website this afternoon read. "In light of global developments for the economic outlook as well as muted inflation pressures, the committee decided to lower the target range for the federal funds rate to 1 ¾ percent to 2 percent."
Addressing the U.S.-China trade conflict among other global economic concerns, the quarter percentage point cut (along with the rate cut in July) nearly negates the increases enacted in 2018.
The statement went on to say [the Fed] "will continue to monitor the implications of incoming information for the economic outlook and will act as appropriate to sustain the expansion," and came after some division, with two reserve bank presidents in favor of holding rates steady. Of the 17 officials voting, seven indicated further rate cuts would be in order, highlighting uncertainty about the future.
National Association of Realtors Chief Economist Lawrence Yun expressed the feeling that a more aggressive rate cut would have been more effective. "The interest rate cut is the right decision but should have been bolder with a 50 basis point move," he said in a statement after the cut was announced. "The indication of another rate cut in a few months will simply hold back some consumer and business decisions until then. It would have been better to get the economy going right away."
The National Association of Home Builders had a more positive take on the cut. "The more dovish stance of the Fed is good for housing and home building, as forecasts for slow growth continue to be a headwind for additional construction growth," the group said in a statement. "Given that the housing market faced a 10-year low for housing affordability last fall, the Fed's approach is a net positive for future housing demand and home construction, while offering an offset (but only partial one) for rising construction costs."
What's next for the market remains uncertain, but economic activity in the U.S. and abroad is clearly slowing, according to Yun. "Another rate cut in the U.S. by the year's end is nearly assured. For consumers, mortgage rates may decline, or may not, since the global bond market influences the longer-term interest rates," Yun said. "Various competing forces are at work. One thing is clear: mortgage rates currently are essentially at their lowest mark in modern history.