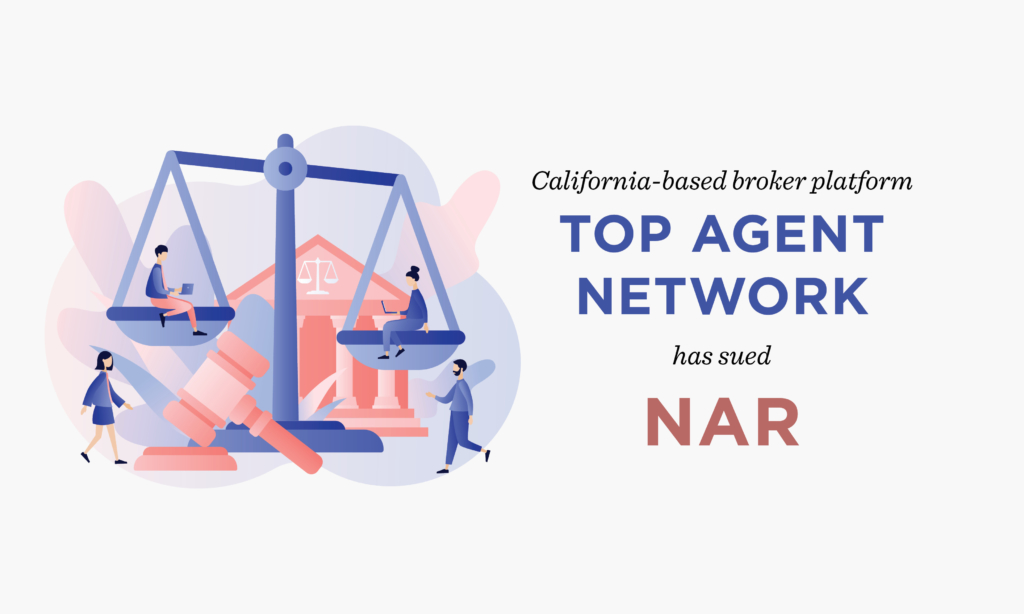 A San Francisco-based, members-only online network for real estate agents filed a federal antitrust lawsuit yesterday against the National Association of Realtors and two of its affiliates, alleging the so called Clear Cooperation Policy that went into effect the beginning of this month is a violation of antitrust and unfair competition laws.
The six-count lawsuit, filed in the U.S. District Court for the Northern District of California by Top Agent Network, alleges violations of the Sherman Antitrust Act, the Clayton Act, the Cartwright Act and California's unfair competition law. It asks for, among other things, the Clear Cooperation Policy's repeal and an injunction barring enforcement of the policy.
"This action is necessary to stop [NAR] and its affiliates from conspiring to shut down competition, disrupt the relationship between real estate agents and their clients, require agents to violate California law, and take away a family's freedom to choose how to market their home for sale," the complaint read in part.
David Faudman, founder and CEO of Top Agent Network, told Houston Agent that the lawsuit is less about pocket listings and more about freedom of speech. "The term pocket listing has a very negative connotation — I put it in my pocket to either double-end the deal, or at the minimum, I know something nobody else knows," he said. "I'm not a fan of either and we're none of those. We're about high producing agents sharing with other high producing agents in the country to gather market intelligence, like, 'Can I get $2 million for it?' or 'Should I redo the kitchen?' But if someone comes along and says I'm going to get you a price you won't believe, then agents have to do the right thing for their client."
Top Agent Network, a communication platform that vets top producing agents in their area to gather market intelligence in exchange for an annual fee, began as an email list in 1995. Today it's a national company with 31 chapters and 10,000 agents in Texas, Arizona, Illinois, Maryland, D.C, Virginia, California, Oregon, Hawaii and Massachusetts.
While NAR did not respond to an interview request, NAR Chief Counsel Katie Johnson addressed the issue in a press release responding to another antitrust lawsuit, this one aimed at buyers' agents' fees. "The MLS has been around for well over 100 years and has contributed to an orderly and efficient marketplace," said Johnson. "We are going to aggressively defend ourselves, along with the rights that enable homebuyers and sellers to continue to have access to a highly efficient market."
Faudman agreed with this premise to a certain extent. "The MLS is still the most important place to market a property," he said. "But in a nutshell, I believe that the decision about how to market and sell a home is between the agent and the seller. Let's say eBay is the No. 1 place to sell used goods and they say, 'You must put it on eBay, or we will fine you and you'll never be able to use eBay again.' They're using monopoly power to do that."
While the pocket listing rule was enacted in part to end the practice of agents restricting access to their listings while retaining access to other agents' listings, Faudman said that the policy is neither clear nor is it about cooperation and will inevitably lead to more problems as agents turn to office exclusives instead.
"While the intention is good, the implementation is terrible," he said. "An office exclusive says you can't talk to agents at other brokerages, but you can talk to all the agents in your brokerage. It encourages brokerage double ending and gives smaller brokerages a huge disadvantage."
It could take years to settle the lawsuit, but in the meantime, many agents will likely continue to find ways to address demand for off-market deals. In an era of information explosion, real estate data remains tightly controlled, and when it's exclusive, highly coveted.
"We're prepared to see it through, but the hope is that calmer minds will prevail," Faudman said of the lawsuit. "This is not a vindictive angry thing; this is trying to do what's right for consumers and agents."