Beach-front condos with resort-style amenities will be auctioned off next month for half of their original asking price. On June 5, 22 condominiums at Diamond Beach, originally priced from $445,000 to more than $1 million will be auctioned off starting at $195,000.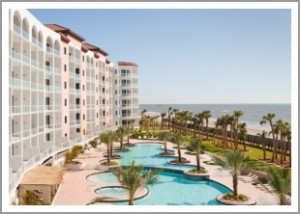 Two- to four-bedroom condos with two- to four-baths are available from 1,195 to 2,566 square feet. There are minimum prices set for beachfront units, however prices for those remain unpublished.
According to Houston Chronicle, Diamond Beach property owner Randall Davis auctioned off units at this property last summer, but this time the auction is for the bank. Davis is not behind on any payments, but his lender, IBC, wants to get this debt off their books.
"The bank and I agreed after this period of time we'd be better off to have less inventory because then we can move prices upward," Davis told the Houston Chronicle.
Davis has 116 total units at the Diamond Beach property but only 62 have been sold.
At last year's auction, 14 out of 40 of the same units with the same amenities were sold with prices ranging from $300,000 to $325,000.
Amenities for these condos include a chocolate spa, lazy river, indoor pool and a 300-foot long pool, a resident-only white sand relaxation area, sun-drenched outdoor cabanas, private theater with pool tables, and a state-of-the-art fitness center.
This auction will be open daily from 11 a.m. to 6 p.m at 10327 FM 3005, Galveston, TX 77554. More information can be found at www.DiamondBeachCondosAuction.com.