In 2008, Fannie Mae and Freddie Mac received $164.4 billion from the Treasury Department; the mortgage giants pay a 10 percent dividend each quarter-leading to a first quarter payment of $12.4 billion from Fannie, and a $11.6 billion payment from Freddie, according to Housing Wire.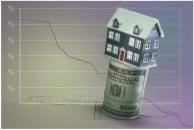 It is apparent that the current payment barely put a dent in the total sum owed, but in an already struggling economy, it is unclear where the money should come from.
"We estimate it would take Freddie Mac approximately 10 years in a normal credit environment to pay back the U.S. government investment, assuming the g-fee is set at 50 bps and the retained portfolio remained static. For Fannie, we estimate it would take approximately 13 years," analysts told Housing Wire.
This is not a huge surprise, as NAR has noted the need for comprehensive reform of the mortgage market. The return of private capital to the market is an ongoing issue of concern, especially since it does not seem that it will happen anytime soon – Housing Wire expects a decision to take three to five years.
Raising the guarantee fees for the companies is seen as the most likely option for gaining private capital, but in order to repay the government, Congress would also have to "eliminate the dividend payment and allow the companies to sustain their portfolios," according to analysts at FBR Capital Markets.
However, two pending bills make these changes impossible, with one restricting the Treasury from lowering the dividend, and another enforcing caps on the company portfolios. With this said, analysts are skeptical that the mortgage giants will ever reach a level conducive to paying back the looming government investment.
"We are no closer to reform today than a few months ago, and, considering the current political climate, this will likely be the case throughout the current Congress. Given the complexity of the issue, we believe that as time goes by and we move further away from the crisis, wholesale reform will become more difficult to enact," FBR said in the article. "If that is the case, this increases the odds that Fannie Mae and Freddie Mac remain intact."