Texas will be one of nine states, accompanied by the District of Columbia, to be eligible for a lease project catering to the alternative energy market, which was recently made public .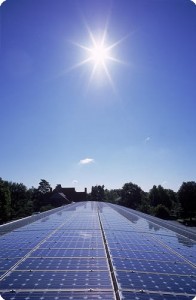 Google and SolarCity announced their creation of a $280 million fund, which will finance residential solar projects, creating the largest nationwide fund in the residential solar market.
SolarCity, an organization committed to solar projects, has created 15 separate project funds with seven different partners, financing $1.28 billion, according to a press release. However, this serves as the first collaborative effort between SolarCity and Google.
"Google is setting an example that other leading American companies can follow," said Lyndon Rive, CEO of SolarCity in the press release. "The largest 200 corporations in the U.S. have more than $1 trillion in cash on their balance sheets. Investments in solar energy generate returns for corporate investors, offer cost savings for homeowners, create new, local jobs for jobseekers, and protect the environment from polluting power sources. If more companies follow Google's lead, we can dramatically reduce our nation's dependence on polluting power."
Google has already invested over $680 million to various clean energy technologies, but their investment in residential solar is a first for the company.
SolarCity says that this fund will enable the companies to "provide solar power to thousands of homeowners at or below the cost they currently pay for electricity."
"In SolarCity's innovative financing model, the company covers installation and maintenance of the system over the life of the lease. You can prepay, or pay nothing upfront after which you make monthly solar lease payments. All told, [a user] will save $100 per month on his energy bills this year, and more than $16,000 over his 15 year lease, after factoring in his lease payment and lower energy bills," according to Google.
More information can be found on the Google blog, or the SolarCity website.