The Market Composite Index shows that the measure of mortgage loan application volume has increased 7.1 percent this week, while similar numbers have moved up and down. According to Mortgage Bankers Association's weekly applications survey for the week ending July 29, 2011, this increase is measure on a seasonally adjusted basis compared from one week earlier. On an unadjusted basis, the volume index increased 7.0 percent, the refinance index increased 7.8 percent, the seasonally adjusted purchase index increased 5.1 percent and the unadjusted purchase index increased 5.2 percent.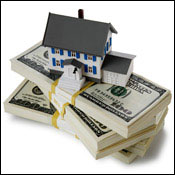 "Treasury rates plummeted more than 20 basis points last week as all eyes were focused on the debt ceiling negotiations in Washington, and economic data depicted much slower than anticipated economic growth," said Michael Fratantoni, MBA's Vice President of Research and Economics. "Mortgage rates fell, with the rate on 15-year mortgages reaching a new low in our survey. Refinance application volume increased, but even though 30-year mortgage rates are back below 4.5 percent, the refinance index is still almost 30 percent below last year's level. Factors such as negative equity and a weak job market continue to constrain borrowers. Purchase activity increased off of a low base, returning to levels of one month ago, but remains weak by historical standards."
The four week moving average for the seasonally adjusted market index is up 2.8 percent, the refinance index average is up 4.2 percent, however the purchase index dropped down 0.4 percent.
The refinance share of mortgage activity increased this week to 70.1 percent of total applications this week, up from 69.6 percent from last week. The adjustable-rate mortgage (ARM) also increased 6.6 percent of total applications, up from 6.1 from last week.
Both mortgage rates are the lowest they've been in quite some time. The average interest rate for a 30-year fixed-rate mortgage decreased from 4.57 to 4.45 percent while the average interest rate for a 15-year fixed-rate mortgage also decreased from 3.67 to now 3.52 percent.