Housing prices have been uniformly increasing the last year, but a new Trulia study finds that city markets have the edge on their suburban competitors.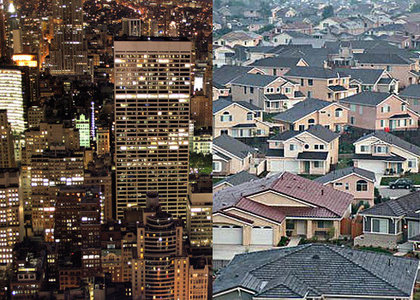 City or suburbs?
It's one of the prevailing questions in real estate today, whether the city or its surrounding suburbs offer a better life for prospective homebuyers. In terms of which market is performing better in the housing recovery, though, the verdict is clear.
Using home-price data from the Case-Shiller Home Price Indices, real estate website Trulia has studied how home prices have performed in major U.S. cities, and compared that with their surrounding suburbs.
The median asking price per square foot in city, Trulia found, has increased 11.3 percent in the U.S.' urban markets, compared with 10.2 percent in suburban markets. Interestingly, though, the suburbs are still outpacing the city in terms of population growth, with populations in suburbs growing 0.56 percent to the cities' 0.31.
What does the situation look like here in Texas, though? Because Trulia consulted Case-Shiller data, Houston was not represented in Trulia's findings, because the Case-Shiller, amazingly, does not track Houston's housing market. Information for Dallas, though, was available, and is consistent with what HAR has been reporting here in the Bayou City. See our infographic for more perspective: