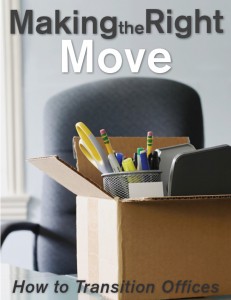 When Realtor Jo Anne Johnson made the transition from Coldwell Banker United to a boutique brokerage in 2011, she did it to meet the needs of her business. However, as her business grew and developed, her needs changed, and she realized her needs would be better served if she returned to her previous company.
"Within a year-and-a-half, I realized the back office support/infrastructure, such as having a receptionist, weekend hours and things that allow me as an agent to cater to our clients, were very valuable," she says. "My business was growing and I needed a broker who could support that growth."
Making the transition between brokerages is never easy, especially if you have a good relationship with your broker. But if it's the right move for your business, then it's the right thing to do. And if you prepare for the transition accordingly, it will go much smoother.
Taking Care of Business
Between office politics, new procedures and organizing yourself, there is a lot that needs to be taken care of. However, if your new company is the right fit, this transition can seem effortless.
When Johnson moved back to Coldwell Banker United, her transition was seamless because of the help and support she received from her new company, specifically Branch Manager Cindy Hamann and Assistant Manager Gayle Edleman. They helped her set up new passwords, transition to the MLS, set up the new branding on her website and leveraged the announcement by paying for magazine ads and mail-out cards.
"I think separation and organization guarantees success," Johnson says. "Behind the scenes, if brokers are serious enough to go out and recruit, they have to have the infrastructure to make sure it's tight, as well as the organization and communication."
It is important that your company communicates with you to help you get accommodated to the new environment. When Realtor Thea McShay transferred to Bernstein Realty this past May, her company gave her an opportunity to sit down and talk to everybody on the staff, which included the marketing department, accounting department, receptionist, relocation specialist and office manager.
"They gave me a 20 minute time frame throughout the day to meet with these people and and they told me how things work in their department and what they could do for me," she says. "They also had an open door policy incase I had any questions. It was just amazing. They made everything so easy."
A new company could help with making a smooth transition for new agents, but there needs to be a lot of planning on the new agent's part, as well. Most importantly, agents making a move need to communicate with clients and business/service partners to update them on what's happening.
"There's absolutely going to be a bump, so make sure to plan for it," says Broker Associate Susan Greer, who moved to Better Homes and Gardens Real Estate Gary Greene from Coldwell Banker this past May. "And even with the best planning, things are going to get hectic and crazy."
Greer created a plan with her team to determine how each set of contacts would be handled. After that, they made phone calls, changed the signs in the front yards of their properties and updated the flyers/brochures for their listings. She also recommends creating a non-broker specific email so your clients always have a way to reach you, no matter where you decide to go.
"If your clients try to find you at an address that does not exist anymore, you're going to lose sales," she says.
Know the Legalities
Before making the transition, it is important that you are educated on your old company's and current company's manuals to make sure you aren't breaking any rules. Every company has different policies, and you want to make sure you know all of the legalities.
Even though Johnson was no stranger to Coldwell Banker United, she made it a point to read their policies to make sure everything was clear and that there would be no surprises.
She mentioned that she had a few pending transactions when she left, but she kept them with her former broker, because she was on a full 100 percent commission plan.
"It's safe to say that this needs to be negotiated when the agent is considering changing brokers so that both the old and new knows who's getting what," she says.
At Coldwell Banker, Greer says it mentioned in the company policy that all transactions belong to the broker, not the agent. However, she said if an agent is moving, most brokers will work with them and let them take clients with them for a referral fee. They also will get a certain percentage of the sale in the end, which Greer says was completely fair.
"The only way you can take a client or transaction with you is with the blessing of your previous broker," she says. "Coldwell Banker was very good about working on an arrangement that was fair."
For the most part, clients are not legally obligated to stay with their agents if they do not like their new brokerage. However, if the agent and client have a good relationship, the client is willing to follow the agent, not the brokerage.
"Their allegiance is to the agent," Greer says. "You can have 100 agents in a single brokerage and every agent has different varying levels of quality and performance."
Finding the Right Fit
Many agents feel guilty about making the transition to another brokerage, especially if they worked at their previous brokerage for a long time. But keep this in mind: agents change over time, which means the needs for their business change as well. And agents should not feel guilty for wanting a brokerage that will meet their new needs.
When McShay first transferred to her previous brokerage, her needs were different than they are now.
"After you have been in the business for a while and are doing well in your real estate career, I believe you follow a path to other companies because you think the grass is somehow greener (more money to be made with a certain company name recognition or the temptation of achieving a lager commission structure)," she says.
But as her career developed, so did her needs. A brokerage with great training, an accommodating managing broker and helpful agents/support staff became more important to her than brand recognition.
"It took me awhile, but I finally realized all I really needed to do was to get back to the basics, so to speak," she says. "I am so happy to have found my way to my Bernstein family. My only regret is that I didn't make it sooner."
In some cases, like Greer's, an opportunity might present itself when you least expect it. She was not looking to move, but she ended up meeting with Gary Greene and liked the way its marketing department strongly supported agents. She then realized that she needed a brokerage with that kind of support to help her business grow, which is why she decided to make the transition.
"It wasn't because I was unhappy where I was," she says. "Coldwell Banker is a wonderful company. It was more that (Gary Greene) is very agent focused and takes a more personal approach to helping agents go to businesses in a way I felt was a really good fit for us and would help take us to the next level."
If you are thinking about making the transition to another brokerage, there are some things extra you can do to prepare yourself. Before you make a commitment to another company, McShay recommends talking to the staff and asking them questions about the company and environment to make sure it is a good fit for you. She did not do this when she transferred to her previous company, so she made sure to do this before transferring to Bernstein Realty.
"That was my mistake that I didn't do my research going to that previous company," she says. "But I knew several agents that were with Amy (Bernstein), and all I heard was praise before I went. Do your homework and talk to people."
Even if they plan on moving, Greer advises agents to present their best work to their broker until the minute they leave the office, and avoid accepting any company generated leads to avoid controversy.
"It's important that you do the absolute best possible job you can for your current broker until the moment you walk out the door the final time," she says. "Until that moment, you are working for them and owe them the very best possible job."
And finally, though this transition can be hectic, Johnson reminds agents to keep a level head and do what is best for their business.
"Agents are independent contractors – they have to do what's best for their business," she says. "They shouldn't be afraid of opening that door and looking at those opportunities. I think any good, strong reputable brand/broker/etc. will do everything they can in that transition very good, clean and easy."