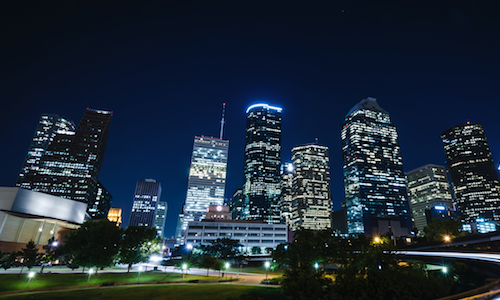 Every year, REAL Trends, a leading source for industry analysis and information, publishes its 500 lists, which rank the country's top residential brokerages by transaction sides and total sales volume. This year both Texas and Houston were well represented.
It was Dallas' Keller Williams Realty branch that topped REAL Trends' 2016 statewide list for transaction sides with more than 21,000 total sales throughout 2015. The brokerage snagged the No. 14 spot on the national list, and was accompanied in the the top 25 by two other Texas brokerages – Ebby Halliday Real Estate, Inc. in Dallas (No. 15), and Austin-based Keller Williams Realty – Willis Management, Inc (No. 25). The top Houston brokerage was Better Homes and Gardens Real Estate Gary Greene with 8,479 transaction sides.
Ranking on the basis of volume, BHGRE Gary Greene again represented the best of Houston, boasting a national rank of No. 66 and $2.3 billion in total volume. Ebby Halliday stood out at No. 1 statewide (No. 10 nationwide), closing more than $7.8 billion.
Overall, Texas had more than four dozen residential brokerages make the REAL Trends 500.
Transaction Sides
| National Rank | State Rank | Brokerage | City | Sides |
| --- | --- | --- | --- | --- |
| 14 | 1 | Keller Williams Realty | Dallas | 21,083 |
| 15 | 2 | Ebby Halliday Real Estate, Inc. | Dallas | 20,626 |
| 25 | 3 | Keller Williams Realty – Willis Management, Inc. | Austin | 13,971 |
| 50 | 4 | Keller Williams Realty | Austin | 9,178 |
| 54 | 5 | Better Homes and Gardens Real Estate Gary Greene | Houston | 8,479 |
| 66 | 6 | Keller Williams Realty | Arlington | 7,409 |
| 87 | 7 | Berkshire Hathaway HomeServices Anderson Properties | Houston | 5,974 |
| 89 | 8 | Keller Williams Realty | Lubbock | 5,957 |
| 91 | 9 | CENTURY 21 Judge Fite Company | Dallas | 5,922 |
| 92 | 10 | Realty Austin | Austin | 5,678 |
| 115 | 11 | Keller Williams Signature | Katy | 5,135 |
| 120 | 12 | Coldwell Banker Apex, Realtors | Richardson | 5,059 |
| 123 | 13 | RE/MAX DFW Associates | Coppell | 4,901 |
| 156 | 14 | Coldwell Banker D'Ann Harper, Realtors | San Antonio | 4,278 |
| 167 | 15 | Keller Williams Realty | Fort Worth | 4,004 |
| 210 | 16 | Keller Williams Realty | The Woodlands | 3,345 |
| 237 | 17 | Heritage Texas Properties | Houston | 3,023 |
| 248 | 18 | Keller Williams Realty | Plano | 2,957 |
| 253 | 19 | RE/MAX Trinity | Fort Worth | 2,934 |
| 266 | 20 | Keller Williams Realty | Denton | 2,830 |
| 277 | 21 | Kuper Sotheby's International Realty | San Antonio | 2,649 |
| 278 | 22 | ERA Sellers & Buyers Real Estate | El Paso | 2,641 |
| 282 | 23 | Keller Williams Realty Rockwall | Rockwell | 2,595 |
| 288 | 24 | RE/MAX Fine Properties | Sugar Land | 2,578 |
| 292 | 25 | Briggs Freeman Sotheby's International Realty | Dallas | 2,565 |
| 305 | 26 | Better Homes and Gardens Real Estate Bradfield Properties | San Antonio | 2,493 |
| 320 | 27 | Keller Williams Legacy | San Antonio | 2,396 |
| 328 | 28 | RE/MAX Space Center-Clear Lake | Houston | 2,360 |
| 330 | 29 | Keller Williams Memorial | Houston | 2,353 |
| 337 | 30 | Ultima Real Estate | Dallas | 2,292 |
| 344 | 31 | RE/MAX The Woodlands & Spring | The Woodlands | 2,256 |
| 355 | 32 | RE/MAX ONE Beaumont | Beaumont | 2,193 |
| 378 | 33 | Keller Williams Realty | Frisco | 2,107 |
| 388 | 34 | Keller Williams Realty | Round Rock | 2,055 |
| 409 | 35 | JP and Associates REALTORS | Frisco | 1,983 |
| 424 | 36 | Phyllis Browning Company | San Antonio | 1,941 |
| 434 | 37 | CENTURY 21 Mike Bowman, Inc. | Grapevine | 1,914 |
| 438 | 38 | Keller Williams Realty Central 75 | Richardson | 1,888 |
| 462 | 39 | Keller Williams Realty Brazos Valley | College Station | 1,811 |
| 463 | 40 | ERA Colonial Real Estate | Harker Heights | 1,809 |
| 468 | 41 | Keller Williams Premier Realty | Katy | 1,796 |
| 470 | 42 | RE/MAX Dallas Suburbs | Plano | 1,795 |
| 472 | 43 | Keller Williams Realty Conroe/Lake Conroe/Huntsville | Conroe | 1,787 |
| 499 | 44 | RE/MAX Realty Center | Cypress | 1,703 |
Volume
| National Rank | State Rank | Brokerage | City | Volume (in millions) |
| --- | --- | --- | --- | --- |
| 10 | 1 | Ebby Halliday Real Estate, Inc. | Dallas | $7,853 |
| 19 | 2 | Keller Williams Realty | Dallas | $5,298 |
| 32 | 3 | Keller Williams Realty – Willis Management, Inc. | Austin | $3,702 |
| 42 | 4 | Keller Williams Realty | Austin | $3,014 |
| 66 | 5 | Better Homes and Gardens Real Estate Gary Greene | Houston | $2,364 |
| 79 | 6 | Briggs Freeman Sotheby's International Realty | Dallas | $2,212 |
| 90 | 7 | Realty Austin | Austin | $1,994 |
| 111 | 8 | Keller Williams Realty | Arlington | $1,599 |
| 125 | 9 | RE/MAX DFW Associates | Coppell | $1,479 |
| 131 | 10 | Kuper Sotheby's International Realty | San Antonio | $1,412 |
| 139 | 11 | Greenwood King Properties | Houston | $1,332 |
| 140 | 12 | Keller Williams Signature | Katy | $1,331 |
| 145 | 13 | Berkshire Hathaway HomeServices Anderson Properties | Houston | $1,317 |
| 171 | 14 | CENTURY 21 Judge Fite Company | Dallas | $1,153 |
| 181 | 15 | John Daugherty, Realtors | Houston | $1,117 |
| 182 | 16 | Coldwell Banker Apex, Realtors | Richardson | $1,117 |
| 186 | 17 | Keller Williams Realty | The Woodlands | $1,094 |
| 192 | 18 | Keller Williams Realty | Lubbock | $1,055 |
| 203 | 19 | Heritage Texas Properties | Houston | $1,029 |
| 208 | 20 | Coldwell Banker D'Ann Harper, Realtors | San Antonio | $1,004 |
| 245 | 21 | Keller Williams Realty | Plano | $872 |
| 258 | 22 | RE/MAX The Woodlands & Spring | The Woodlands | $812 |
| 267 | 23 | Phyllis Browning Company | San Antonio | $795 |
| 276 | 24 | Keller Williams Memorial | Houston | $771 |
| 281 | 5 | RE/MAX Trinity | Fort Worth | $761 |
| 291 | 26 | RE/MAX Fine Properties | Sugar Land | $751 |
| 303 | 27 | Keller Williams Realty | Fort Worth | $732 |
| 305 | 28 | Keller Williams Realty | Frisco | $724 |
| 361 | 29 | Keller Williams Realty Rockwall | Rockwall | $607 |
| 364 | 30 | Keller Williams Realty | Denton | $604 |
| 391 | 31 | Keller Williams Lake Travis | Austin | $566 |
| 414 | 32 | RE/MAX Space Center-Clear Lake | Houston | $535 |
| 415 | 33 | Keller Williams Realty | Round Rock | $533 |
| 422 | 34 | Keller Williams Legacy | San Antonio | $527 |
| 426 | 35 | Keller Williams Premier Realty | Katy | $523 |
| 428 | 36 | Better Homes and Gardens Real Estate Bradfield Properties | San Antonio | $522 |
| 431 | 37 | RE/MAX Dallas Suburbs | Plano | $520 |
| 441 | 38 | JP and Associates REALTORS | Frisco | $507 |
| 466 | 39 | ERA Sellers & Buyers Real Estate | El Paso | $482 |
| 481 | 40 | Keller Williams Realty Central 75 | Richardson | $469 |