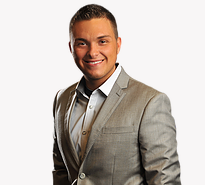 What was your first job in the realty industry? I was a buyer's agent for top-producing team Rene Sorola Properties at KW Met.
Where did you grow up? East Texas
What do you do to relax when you're stressed? Golf
Growing up, what did you want to be? Real estate broker
If you could have lunch with a well-known figure (living or not), who would it be and why? Barbara Corcoran. I would love to know exactly what she did in order to take her real estate business to the next level.
Where is your favorite place to hang out? The golf course
What do you love most about the industry? Competition. There are 30,000 agents in Houston and I love negotiating for my clients and competing with all of these Realtors.
How do you distinguish yourself from the crowd of agents? We have a proven, repeatable listing and buying process that we use for our clients. It is designed to get you the best price in the shortest amount of time. It helps our buyers not lose out in multiple-offer situations and guarantees them we will get the home at the price they are comfortable with. The process is a proven process that has ranked us the No. 9 team in Houston.
What is the most difficult aspect of your job? Time management. We sell more than 175 homes a year and I also have a family, so keeping every client along with my family happy is hard to do, but I believe I've found a happy medium.
Where do you go to network and meet new clients? I hang out with my sphere. Golf course, church, networking events, etc.
What has been your greatest accomplishment? My family – my wife and two healthy girls.
What was the last good movie you saw or book you read? My best read in a while was "Be Obsessed or Be Average" by Grant Cardone.
What is your favorite restaurant? Grace's on Kirby
Architecturally speaking, what is your favorite building in Houston? Williams Tower in Galleria
What kind of car do you drive? A 2017 F-150 Platinum
Smartphone or paper? Smartphone
What is your favorite city after Houston? Austin
In 10 words or less, what is your advice for someone new to the industry? Join a top-producing team to start your career.
What's your favorite real estate iPhone/Android app? The HAR application is great.
Who are your favorite people to follow on Twitter? Top-producing, multimillion-dollar real estate agents around the world