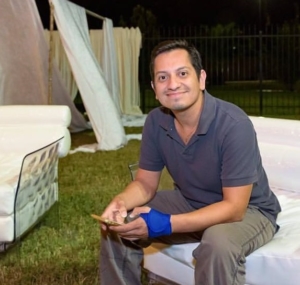 First and last name: Jorge Ordaz
Title: Realtor
Company: Refuge Real Estate, Houston
What was your first job in the realty industry? I was a translator at a title company in 2003.
Where did you grow up? Southwest Houston
Growing up, what did you want to be? I wanted to be an attorney.
What do you do to relax when you're stressed? Work out or watch TV
If you could have lunch with a well-known figure (living or not), who would it be and why? Martha Turner
Where is your favorite place to hang out? Around the Corner Bar
What do you love most about the industry? Meeting so many different kinds of people
How do you distinguish yourself from the crowd of agents? By educating myself about everything in my area. I attend weekly classes on many topics from world issues to foundation repair.
What is the most difficult aspect of your job? The setting of expectations for my first-time clients
Where do you go to network and meet new clients? I started my own networking group, a young professionals organization. And I volunteer in the community.
What has been your greatest accomplishment? I was the first person in my family to attend college in the U.S. I attended the University of Texas.
What was the last good movie you saw or book you read? "Start-up Nation"
What is your favorite restaurant? Villa Arcos
Architecturally speaking, what is your favorite building in Houston? The old Enron building
What kind of car do you drive? Hyundai Elentra
Smartphone or paper? Smartphone
What is your favorite city after Houston? Tel Aviv
In 10 words or less, what is your advice for someone new to the industry? Have patience.
What's your favorite real estate iPhone/Android app? HAR app
Who are your favorite people to follow on Twitter? Bernie Sanders
Want to be featured on Houston Agent? Click here to submit your free Agent Snapshot profile.