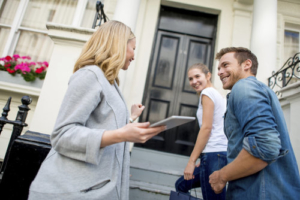 The recent J.D. Power 2017 Home Buyer/Seller Satisfaction Survey shows there are key things real estate agents can do to make first-time homebuyers and sellers more confident throughout the process.
And with recent upticks in home sales – which are set to grow 3.5 percent this year, according to the National Association of Realtors – real estate agents are uniquely poised to be able to quell the concerns of first-timers, who may be anxious about anything from budget to marketing.
Each step of the buying and selling process is important, but open and transparent communication is tops. The results found that both first-time buyers and sellers rank their satisfaction at 117 points higher and 93 points higher when agents keep them informed throughout the process.
Another way to boost satisfaction is current and consistent marketing. Buyers report being more satisfied when agents market their home consistently, as they consider it a direct reflection of the agent's support.
Finally, maintaining good relationships with buyers and sellers can boost an agent's word of mouth exposure, which survey respondents said is a key factor in their decision to choose a real estate company. Reputation alone was cited as the reason 35 percent of first-time buyers and 44 percent of first-time sellers chose a company to work with. Similarly, 24 percent of first-time buyers and 17 percent of first-time sellers said they chose based on recommendations from family and friends.